Braves preparing in case Medlen is out awhile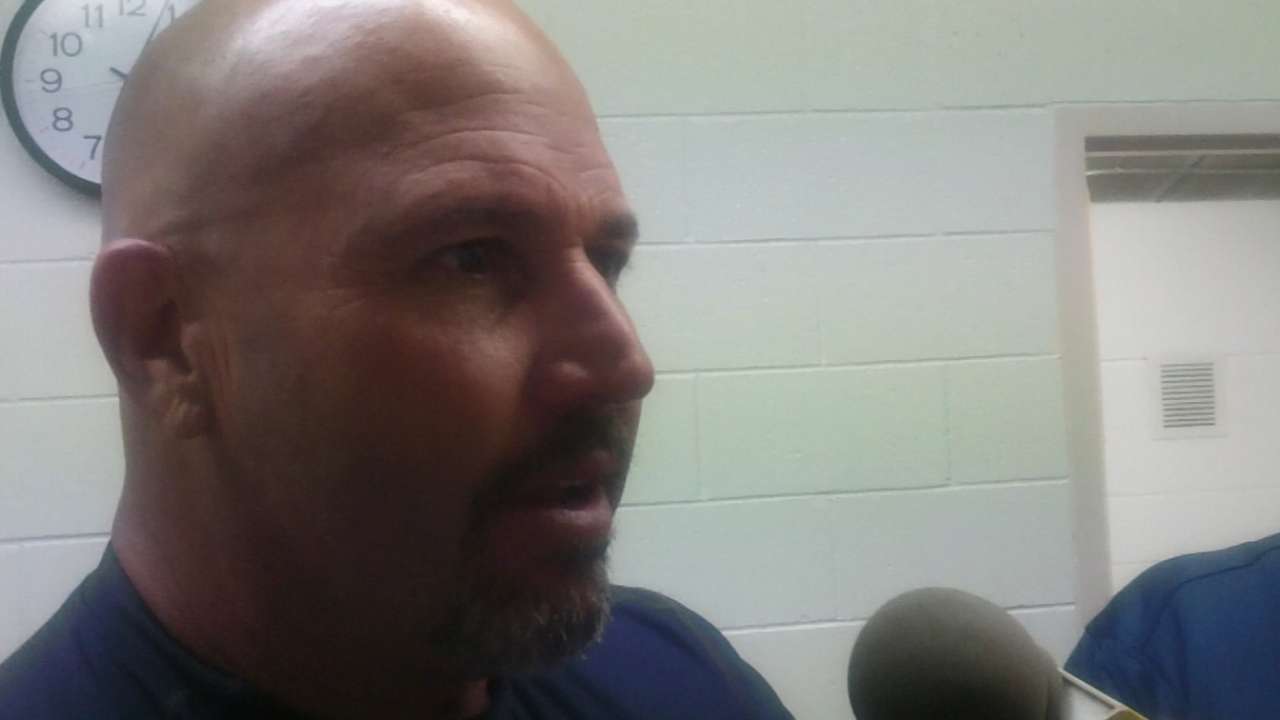 CLEARWATER, Fla. -- As Kris Medlen was undergoing an MRI exam on Monday afternoon, the Braves were evaluating all of the options that could cover them in the event that Medlen did indeed suffer a significant right elbow injury that would sideline him for an extended period.
Medlen underwent the exam around noon ET on Monday. The Braves did not reveal whether their doctors will review the results Monday evening or wait until Tuesday morning.
Even if Medlen learns that he will not have to undergo Tommy John surgery for the second time in four years, the Braves realize there is a strong possibility that he exited Sunday's start against the Mets with an ailment that will sideline him for more than a couple of weeks.
Atlanta's rotation plans were further altered when Brandon Beachy exited Monday's start against the Phillies after just two innings because of tightness around his right elbow and biceps muscle. The Braves believe Beachy is simply dealing with normal soreness. But there is now a chance he too will not be ready when the regular season begins.
So as things currently stand, the Braves are looking at beginning the season with Medlen, Beachy and Mike Minor on the disabled list. Minor has seemingly overcome the left shoulder discomfort he experienced during the early days of camp. But he's still attempting to make up for lost time when he was forced to remain inactive for a month following a Dec. 31 urinary tract procedure.
If these three aforementioned pitchers are all sidelined, the Braves could begin the season with a rotation that consists of Julio Teheran, Alex Wood, Freddy Garcia and David Hale. Two early off-days create the opportunity to use a four-man rotation until April 12, which is around the time Minor hopes to join Atlanta's starting rotation.
While it seems unlikely the Braves will end up landing free agent Ervin Santana, multiple sources have indicated the club has at least developed some level of interest in the right-hander, who has already reportedly received three-year offers worth somewhere between $27-33 million from the Twins and Orioles.
Given the financial commitment and the fact they would lose their first-round selection (26th overall) in June's First-Year Player Draft, the Braves have reason to be reluctant to pursue a 31-year-old pitcher who went 9-10 with a 3.24 ERA while benefiting from Kansas City's strong defense last year.
But given what has happened over the past two days, all options have to be evaluated.
Mark Bowman is a reporter for MLB.com. This story was not subject to the approval of Major League Baseball or its clubs.