Stellar at short, Simmons seeks to better his swing
Young Braves infielder aiming to be more disciplined, relaxed at the plate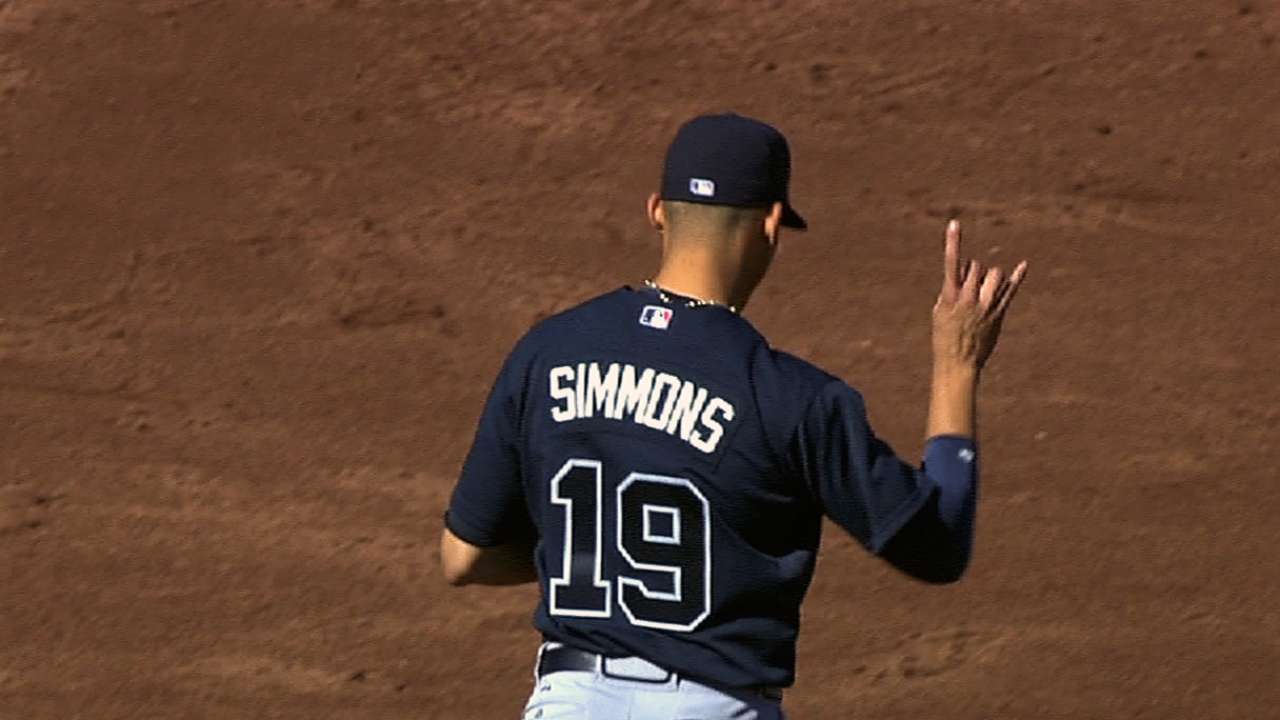 VIERA, Fla. -- Now that he has spent the past two year's establishing himself as arguably baseball's best defensive shortstop, Andrelton Simmons is focused on developing the comfort that will allow him to be more consistent at the plate.
"I'm still working on my swing, trying to be more loose," said Simmons, who hit an RBI single in the Braves' nine-run fifth inning in Saturday's 16-15 loss to the Nationals at Space Coast Stadium.
Given that he compiled just 203 of his 1,042 Minor League plate appearances above the Class A Advanced level, Simmons has been forced to develop his offensive approach at the Major League level. But the 24-year-old shortstop provided some encouragement as he batted .248 with 17 home runs last year.
As he attempts to become a more complete player in the Grapefruit League season, Simmons will attempt to improve his plate discipline and develop a more relaxed swing.
"His natural swing is a shouldery, kind of down and across," Atlanta hitting coach Greg Walker said. "We're trying to get a little looser so it will flow down the line a little longer. He'll get it and when he does, he's going to be really, really good."
While Simmons' offensive game is a work in progress, he appeared to be heading in the right direction as he batted .255 with nine home runs and a .789 OPS after last year's All-Star break.
"He'll fight you and he's got great hand-eye coordination," Walker said. "He'll put the barrel of the bat on the ball. He just needs a more consistent swing pattern. Once he gets that, he'll hit for average and power. He's still got some work to do."
Mark Bowman is a reporter for MLB.com. This story was not subject to the approval of Major League Baseball or its clubs.