Heyward gives early glimpse of power vs. lefties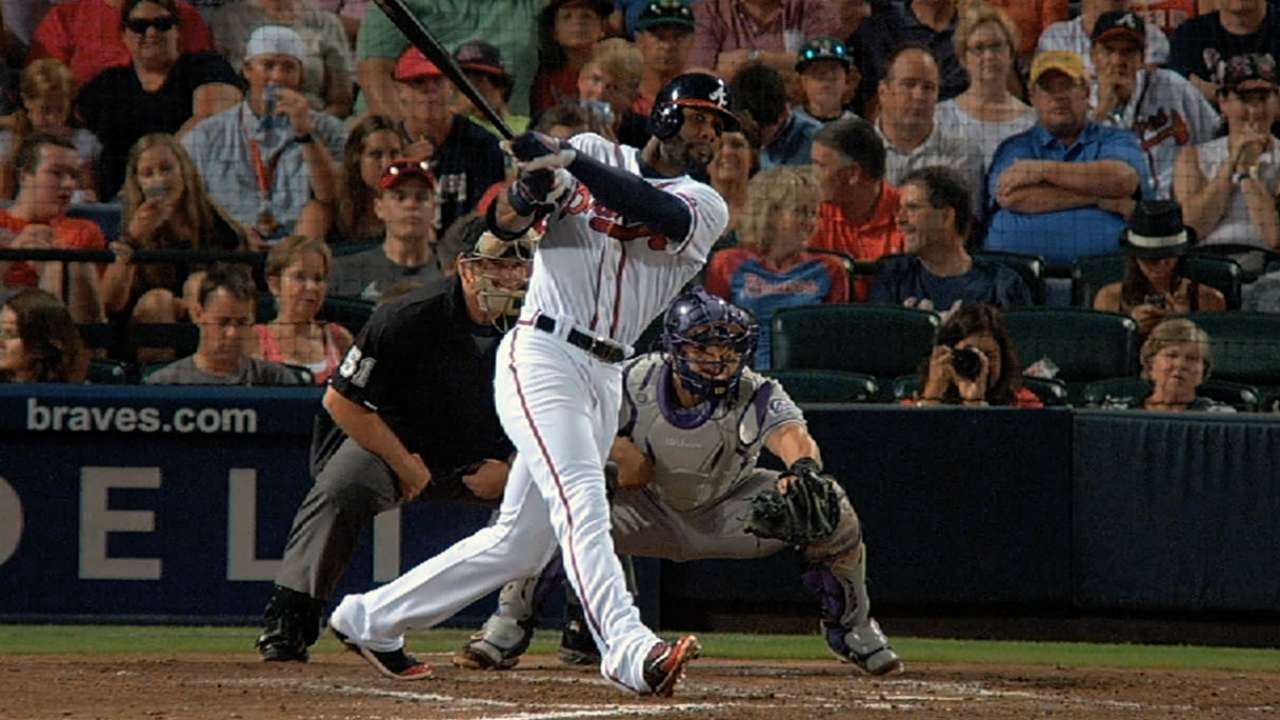 LAKELAND, Fla. -- After a wayward fastball thrown by Mets southpaw Jon Niese broke Jason Heyward's jaw late last season, there was some initial concern that the Braves right fielder might struggle to find comfort against left-handed pitchers.
But Tigers left-hander Duane Below now stands among those who have seen the traumatic event did not have much of a lingering effect.
Heyward's first home run of the Grapefruit League season proved to be an impressive one. During the third inning of Thursday's 5-2 loss to the Tigers, Heyward deposited Below's fastball on top of the roof of the batting cages located approximately 30 feet beyond the right-field wall at Joker Marchant Stadium.
As Heyward's solo shot sailed high above the right-field foul pole, it conjured memories of 2010, when he dented this same roof with more of a line-drive shot off Max Scherzer. That shot fueled the hype that surrounded the then 20-year-old outfielder, who homered on the first swing of his career approximately one month later.
"I remember that one," Heyward said. "It hasn't been that many years yet. Today, I hit that one well. It would have gone out on any day. I did my job right there."
Heyward was also pleased with the solid contact he made while grounding out against left-handed reliever Ian Krol in the fifth inning. His comfort against southpaws is aided by the presence of a face guard he plans to continue wearing on his batting helmet.
"It's good because you're going to see lefties every day, especially late in the game," Heyward said. "It's good to feel comfortable and good to have at-bats against them, to where I am at least making them throw pitches over the plate and get me out that way."
Heyward was sidelined for nearly a month after his jaw was broken by the fastball thrown by Niese. From the time he returned to Atlanta's lineup for the regular season's final 10 games and through the National League Division Series against the Dodgers, he went 4-for-19 with a home run against left-handed pitchers. The home run was hit against Paco Rodriguez in a 13-6 Game 4 loss.
"I don't have any reservations about last year's broken jaw," Braves manager Fredi Gonzalez said. "But we saw that right away."
Mark Bowman is a reporter for MLB.com. This story was not subject to the approval of Major League Baseball or its clubs.