Fredi: Simmons shows a knack on defense
Fredi: Simmons shows a knack on defense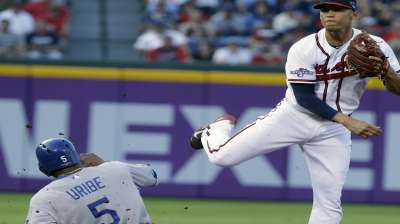 LOS ANGELES -- Andrelton Simmons' rocket arm and great range enabled him to produce some of the greatest defensive metrics ever recorded by a Major League shortstop. But his tremendous baseball IQ may not be recognized by those who have simply seen the countless jaw-dropping, highlight-reel plays he has created this season.
"He's got a knack," said Braves manager Fredi Gonzalez, whose team will face the Dodgers in Game 3 of the National League Division Series on Sunday at 8 p.m. ET on TBS. "He's got a clock, court awareness, whatever you want to call it for the game that you can't teach."
Much of the polarizing buzz surrounding Atlanta's 4-3 win in Game 2 of the NLDS on Friday night centered around whether Dodgers pinch-runner Dee Gordon was correctly called out while attempting to steal second with one out in the ninth inning.
Manager Don Mattingly and his players contend Gordon was safe. Gonzalez and the rest of the Braves' contingent obviously believe second-base umpire Bill Miler made the right call. A freeze-frame photo that has circulated through the social media world over the past 24 hours indicates Simmons did indeed tag Gordon before he reached the bag.
"After watching it on replay and watching it, [Miller] got it right," Gonzalez said. "Simmons is amazing."
Backup catcher Gerald Laird's strong throw provided Simmons the opportunity to gain the favorable ruling from Miller. Gordon might have indeed been safe had Simmons instinctively moved toward the short-hopped throw before making a tag that was just as quick and instinctual as the between-the-legs tag he made to prevent Cincinnati's Shin-Soo Choo from stealing second on May 6.
"I could see the ball was going to bounce and I was not going to have a lot of time," Simmons said. "So, I knew I had to do something quick instead of just coming down [with the tag]. I wasn't really trying to block him. I was just trying to go down with the ball. The closer you are to the ball, the better chance you have to get him."
Two innings before applying this quick tag, Simmons used his powerful arm to retire the speedy Carl Crawford at the end of the improbable 1-6-3 double play that allowed Luis Avilan escape the one-out, runners at the corners threat that he inherited with the Braves leading by one run in the seventh.
"He's just a special guy defensively," Gonzalez said. "Here's a guy, somebody asks me what is the best play you've ever seen him make? My patent answer is the next one because you just never know."
According to the Elias Sports Bureau, Avilan became the second pitcher in Major League postseason history to start an inning-ending 1-6-3 double play with the potential tying run on third base. Cleveland's Bob Lemon also did it in Game 6 of the 1948 World Series against the Boston Braves.
Mark Bowman is a reporter for MLB.com. AJ Cassavell is a reporter for MLB.com. Follow him on Twitter @ajcassavell. This story was not subject to the approval of Major League Baseball or its clubs.