Fredi not a fan of start times for NLDS
Fredi not a fan of start times for NLDS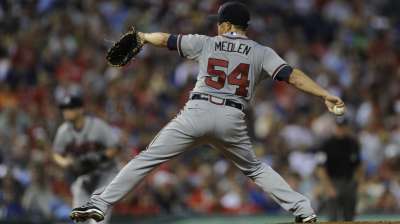 ATLANTA -- Braves manager Fredi Gonzalez provided a comical response when he was asked about the 8:37 p.m. ET start time for Game 1 of the National League Division Series.
"This is being recorded, so I can't tell you exactly," Gonzalez said. "You know, it is what it is. You can't make everybody happy with the starts and that kind of stuff."
The Braves and Dodgers will actually start a little earlier than normal in Game 2, which is scheduled to begin at 6:07 p.m. on Friday. Sunday's Game 3 at Dodger Stadium will begin at 8:07 p.m., which is a 5:07 p.m. PT local start.
"If it was up to me, we'd play at 1 [p.m.] and nobody in the stands and my team against your team, and we'll keep score, and we'll call balls and strikes and just play baseball," Gonzalez said. "But that's not going to happen."
Mark Bowman is a reporter for MLB.com. Eric Single is an associate reporter for MLB.com. This story was not subject to the approval of Major League Baseball or its clubs.