Hometown rookie Hale earns spot on playoff roster
Hometown rookie Hale earns spot on playoff roster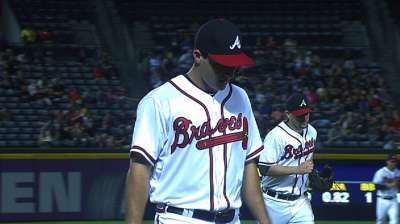 ATLANTA -- David Hale was already pretty satisfied with his first month in the big leagues. After being recalled from Triple-A Gwinnett to join the Braves' roster in the first week of September, the 26-year-old right-hander made the first two starts of his Major League career, collected his first win and participated in a raucous champagne celebration in Chicago after the Braves clinched the National League East.
On Wednesday afternoon, Hale learned that his cup of coffee wasn't finished just yet when the Braves included him on the team's 25-man NL Division Series roster as a long-relief option despite just 11 innings of experience at the Major League level.
"Our rotation is [Kris] Medlen, [Mike] Minor, [Julio] Teheran [and Freddy] Garcia, and we kept Hale because we felt he's a guy that could give us some innings late in the game if you get into one of those crazy 12-, 13-inning games," manager Fredi Gonzalez said. "He's the one that has stretched out enough that he can give you a long man at the end of the game."
Hale's inclusion on the NLDS roster came as a surprise to many, but he may have been more shocked than anyone. Before Gonzalez and pitching coach Roger McDowell met with him to tell him he had made the postseason roster, Hale wasn't even sure he was eligible to pitch in the postseason, having been called up after September roster expansions to make a pair of spot starts and help the rotation stay fresh heading into October.
"They just took me into the office and told me that I made it, and I was completely surprised," Hale said. "I didn't have any expectations of that, and it turned out amazing."
Even after performing well in each of his two starts, Hale was not given any indication he had impressed enough to be considered for a roster spot. On Sept. 13 against the Padres, Hale set a franchise record with nine strikeouts in his Major League debut, topping the mark of eight shared by Kenshin Kawakami in 2009 and Bob Dresser in 1902. He followed that up two weeks later on, Sept. 26, with six strong innings against the Phillies, allowing one run on seven hits.
Those two outings may not be much of a sample size, but Hale's comfort level increased with each solid inning he strung together. After missing more than a month of action in the first half while with Gwinnett due to a strained right shoulder, Hale went 5-5 with a 2.26 ERA in his final 14 Minor League outings, including 10 quality starts. He has outperformed those numbers in his brief time in the Majors and turned enough heads to keep the possibility alive that his third Major League appearance will come in October.
"I think I proved that to them as well as to myself, which is a good thing, so I can go into this with some confidence," Hale said.
A native of Marietta, Ga., Hale has no recollection of the World Series game at Atlanta-Fulton County Stadium his father brought him to in 1992, commemorated by the ticket on display in his parents' house. He hasn't been to a Braves home playoff game since then, even though he has had more than 50 opportunities to do so during the franchise's two-decade run of unprecedented success.
"Back in those days, we just waited until the World Series, because we were going to be there," Hale said.
With the Braves aiming for their first postseason series victory since 2001, Hale has earned a much better seat for the action than the one he had as a young fan. He may soon learn how the adrenaline of playing for his childhood team in the postseason stacks up against the nerves of his Major League debut, which he made with more than a hundred friends and family members from his hometown in attendance.
"Confidence-wise, I'll be a little calmer, just because I know I can do it," Hale said. "But I think with this packed-out crowd, that will bring the adrenaline back to where it was for that first one."
Eric Single is an associate reporter for MLB.com. Mark Bowman is a reporter for MLB.com. This story was not subject to the approval of Major League Baseball or its clubs.