Beachy expects normal offseason after minor surgery
Beachy expects normal offseason after minor surgery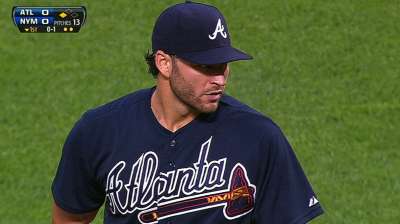 ATLANTA -- The minor surgery Brandon Beachy underwent Thursday to clean up the debris that had been bothering his pitching elbow ensured that Beachy would finish the 2013 season with only 30 innings of Major League work, a result that underscores the fickle nature of the rehab process from Tommy John surgery.
The right-hander was back in the Atlanta clubhouse Sunday and looking forward to a relatively normal offseason, free of the frustratingly slow rehab process he endured last winter while working toward a midseason return to form that never fully materialized. Beachy had his return pushed back, then ultimately cut short due to inflammation in his elbow that Dr. James Andrews attributed to a bone spur and other "loose bodies" in his throwing arm in a follow-up examination earlier this month.
"I didn't need to go down there to know something wasn't right, but there was definitely a sense of relief finding what the doctors had speculated they would find, and then having the reaffirmation that my ligament's good," Beachy said. "It definitely puts the mind at ease a little bit."
MRI and X-ray results did not show any structural damage to Beachy's elbow, and only a CT scan revealed the debris that had been hampering his return to full strength. After walking off the field for the last time this season on Aug. 20, when his velocity took a sharp dip toward the end of a six-inning start in New York, Beachy is looking forward to entering Spring Training with a clean bill of health.
He was told the recovery time for his most recent surgery runs between four and six weeks, which should not significantly interfere with his typical offseason regimen.
"I can't wait to just pick up a ball and hopefully feel normal again, and that's exactly what I expect from the three months or so that I'm going to get off here," Beachy said. "On a personal level, I'm looking forward to that, but I can't wait to watch these guys in the playoffs. It's what the guys have worked hard all year for, and I want to be here to support them."
Mark Bowman is a reporter for MLB.com. Eric Single is an associate reporter for MLB.com. This story was not subject to the approval of Major League Baseball or its clubs.