Fredi ponders playoff roster in advance of NLDS
Fredi ponders playoff roster in advance of NLDS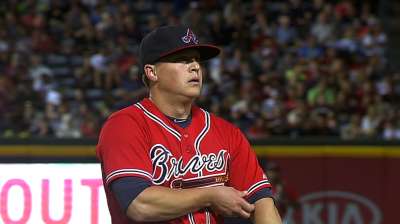 ATLANTA -- Manager Fredi Gonzalez could finalize his decisions on the makeup of the Braves' playoff roster and rotation within the next couple of days as the team prepares to host Game 1 of the National League Division Series on Thursday, but with several injuries, and performances to observe and discuss, Gonzalez reiterated Sunday morning he will take his time if necessary.
The closest thing to a sure bet within the Braves' playoff plans appears to be the rotation, where Kris Medlen, Mike Minor and Julio Teheran will start the first three games of the NLDS, in a yet-to-be-announced order.
"This afternoon or tomorrow, we'll have a clearer picture of what's going on and what we want, but the rotation, you guys gotta do the math, really," Gonzalez said. "Unless something crazy happens here in the next couple of days, it won't be any surprises of what we can do and what we want to do."
The battle between veterans Paul Maholm and Freddy Garcia for starting duties in a potential Game 4 is still up in the air, and Gonzalez did concede Sunday that his decision could be influenced by the matchups presented by the Braves' opponent. An official announcement on the postseason rotation could come as early as Sunday afternoon.
As for the bullpen, Gonzalez's biggest question concerns the health of right-hander Jordan Walden, who appeared for the first time in 11 days on Saturday night and allowed one earned run in two-thirds of an inning. Walden, who has dealt with nagging groin soreness, felt better as his outing went on and could head to Florida for some instructional league work before the team decides whether he is healthy enough to contribute in the playoffs.
"I think there's a possibility we send him to Orlando to get him an inning, get him back on the hill," Gonzalez said. "We're also talking about maybe throwing him up here in a simulated game, but this time of year, I don't know where you get hitters who want to face a guy throwing 97 [mph] and nasty like he is."
The three days off between Sunday's regular season finale and Game 1 should also allow Braves regulars Brian McCann and Chris Johnson to heal up in time for postseason play. McCann was lifted from Thursday's game with soreness in his right groin after struggling to get loose, and Johnson got the day off Sunday, having dealt with a sore throwing shoulder since diving for a play in the field on Thursday.
Mark Bowman is a reporter for MLB.com. Eric Single is an associate reporter for MLB.com. This story was not subject to the approval of Major League Baseball or its clubs.