C. Johnson puts batting title race on backburner
C. Johnson puts batting title race on backburner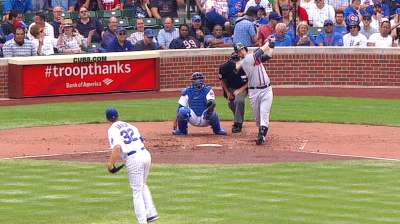 CHICAGO -- Braves third baseman Chris Johnson has spent the past couple of weeks attempting not to think about the possibility of winning his first career batting title. But with one week remaining in the season, it is impossible for him to ignore the opportunity he has created.
Johnson entered Sunday leading the National League with a .332 batting average. Colorado's Michael Cuddyer, who has been sidelined since Wednesday with a strained left wrist, ranked second at .331.
"It's kind of up to me, really," Johnson said. "That's good. I know where I need to be and we'll go from there."
Johnson has made a conscious effort not to think or talk too much about the batting title race until he and his teammates clinch the National League East. The club entered Sunday with a magic number of one.
"I'm just glad to be where I'm at this late in the season," Johnson said. "Actually my teammates are thinking about it more than I am. This guy is telling you need to get one more hit to get your average to be 2-for-4 for the day and stuff like that. So it's pretty cool. They're rooting for me more than I'm rooting for myself."
Coincidently, Atlanta's two most recent batting champions -- Chipper Jones (2008) and Terry Pendleton (1991) -- played the position manned by Johnson.
Whatever happens over the last week, this has already been a memorable season for Johnson, who entered the year with a .276 career batting average. He has has proven to be much more consistent than the Braves could have expected when they acquired him and Justin Upton from the D-backs in January.
Johnson's roughest stretch came when he hit .250 (18-for-72) during a 23-game span from May 27-June 22, the first few weeks he became Atlanta's everyday third baseman. Since then, he has batted .344 (101-for-294) in 77 games.
Mark Bowman is a reporter for MLB.com. This story was not subject to the approval of Major League Baseball or its clubs.