Motivated Uggla draws third consecutive start
Motivated Uggla draws third consecutive start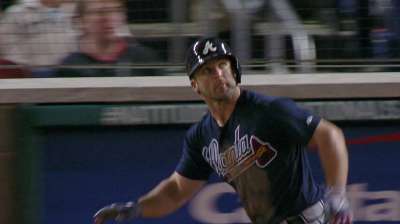 CHICAGO -- Dan Uggla was obviously not happy when he was benched last week. But it appears the veteran second baseman now has another opportunity to prove himself before the Braves enter the postseason.
Uggla made his third consecutive start at second base in Friday afternoon's game against the Cubs at Wrigley Field. He had been out of the starting lineup in seven of the previous eight games before playing the entirety of the second game of Tuesday's doubleheader against the Nationals.
Seemingly motivated by the benching, Uggla recorded a hit in each of the three games played against the Nationals this week. His leadoff home run sparked the three-run sixth inning that proved decisive in Wednesday night's win in Washington.
"I was feeling good before [manager Fredi Gonzalez] decided to sit me," Uggla said. "I've just got to keep working and wait for him to give me another opportunity. I'm done working. I've done all the work I can. I'm just going to be me and keep going to way I've been going."
This has been a trying season for Uggla, who was hitting .186 with 21 homers and a .696 OPS in the 112 games he played before undergoing LASIK eye surgery on Aug. 16. He was benched after batting .133 (4-for-30) with nine strikeouts and a respectable .366 on-base percentage in the first 11 games he played after the procedure.
"You always think of the team," Gonzalez said. "Every decision you make is about the team. It's not about an individual guy. You want guys to be upset. Not everybody is going to understand. But hopefully he can stay on a roll and keep going."
Mark Bowman is a reporter for MLB.com. This story was not subject to the approval of Major League Baseball or its clubs.