Braves mulling over course of action for Heyward
Braves mulling over course of action for Heyward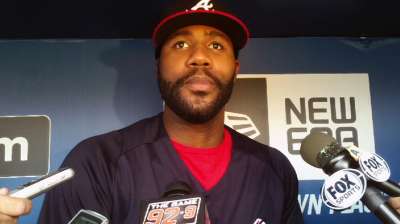 WASHINGTON -- Jason Heyward remains hopeful that he will return to Atlanta's lineup before the regular season concludes. But as he spoke to reporters before Tuesday's doubleheader against the Nationals, he did not know exactly how he would continue his rehab process over the next week.
"I just want to do as much as time will allow, to be honest," Heyward said. "The sooner I get back, I know the more opportunities I'll have to get at-bats, wherever it is. I would realistically like to play games with this team before the regular season is out. It's in my hands, but then again, it's not. I have to let time take its course."
Heyward was cleared to begin completing most of his normal pregame batting-practice routine on Friday. Over the days that have followed, he has experienced some of the fatigue expected from someone who had not been able to complete these activities over the previous three weeks.
But Heyward appears to be fine from a mental perspective. He has said he will not be overwhelmed by any of the fear or hesitancy that could have developed after his jaw was fractured by Jon Niese's fastball on Aug. 21 at Citi Field. This will be aided by the fact that a protective face guard is now attached to Heyward's batting helmet.
"I'm just working my way to getting in shape as soon as possible," Heyward said. "I'm not worried about my face or anything like that. I'm just worried about getting in shape as soon as possible. I have to be patient. I know it's going to take time. I know I can't just do it in one day."
Braves manager Fredi Gonzalez said the club has still not decided whether Heyward will go to the instructional league before returning to the MLB squad. The club is weighing the option of allowing Heyward to see live pitching in either a simulated game or live batting practice against an Atlanta pitcher who might need some work.
Either way, Gonzalez remains confident Heyward will be back in his lineup before the regular season concludes next week.
"I couldn't tell you how many games off the top of my head," Gonzalez said. "But I think we can get him in some Major League games and get him some at-bats before the postseason starts."
Mark Bowman is a reporter for MLB.com. This story was not subject to the approval of Major League Baseball or its clubs.