Braves picking spots with B.J. Upton
Braves picking spots with B.J. Upton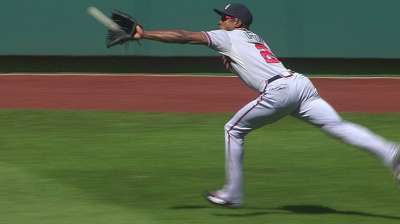 WASHINGTON -- When Braves manager Fredi Gonzalez began sitting B.J. Upton and Dan Uggla on a regular basis last week, he said he would spend the remainder of the season structuring his lineup in a manner that provided the team the best possible chance to win on that particular day.
While Uggla has continued to sit while Elliot Johnson has handled second-base duties, Upton has at least seen some time in center field.
It has appeared that Upton will platoon in center with left-handed-hitting Jordan Schafer. But Gonzalez has never labeled it as a strict platoon. Instead, he has left the door open for opportunities to play matchups, like the one that presented itself when Upton -- a right-handed batter -- started the first game of Tuesday's doubleheader against Nationals right-hander Dan Haren.
Haren entered the day having limited left-handed hitters to a .255 batting average and a .724 OPS (on-base plus slugging). Right-handed hitters have batted .291 with a .819 OPS against Haren.
Upton could also get more playing time if Schafer continues the struggles he has experienced over the past week. Schafer entered Tuesday with one hit and eight strikeouts in his previous 20 at-bats.
Mark Bowman is a reporter for MLB.com. This story was not subject to the approval of Major League Baseball or its clubs.