Wood appreciates rest for playoff push
Wood appreciates rest for playoff push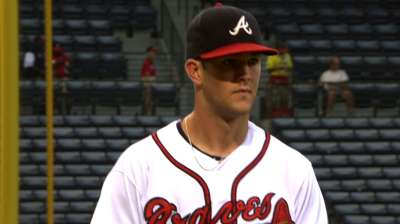 ATLANTA -- Alex Wood is still only a few months removed from a dominant start to his Minor League season that left the Braves wondering how he could possibly improve upon a 1.26 ERA in nearly two months with Double-A Mississippi.
By Wood's own admission, the team's recent decision to skip his spot in the rotation Thursday -- ostensibly to keep him fresh for the playoff push -- is just the latest vote of confidence in what has been "a crazy year" for the rookie left-hander, who has gone from second-round selection in the 2012 First-Year Player Draft to one of the Braves' multiple viable options for their playoff rotation. Wood's next start is slated for Wednesday against the Nationals in Washington.
"It's exciting to me because it's nice that they're looking out for me enough to where they feel like they want to give me a break so I can hopefully be as fresh as I can for the playoffs, which is what I hope they have in mind," Wood said. "It's nice, it makes me want to go out there and do even better than I already wanted to do before."
After leading all starters in baseball with a 0.90 ERA in August, his first full month as a member of the Major League rotation, Wood stumbled in his first two September starts, allowing a total of 11 earned runs in seven innings. Even if he will not quite duplicate his near-perfect August numbers, Wood can credit his progression down the stretch in part to the work he has done in the film room under the direction of left-hander Mike Minor, who is enjoying a breakout year in his own right.
"He's kind of like a sponge, he'll be around guys all the time and ask us questions and ask us how to attack hitters," Minor said.
Minor has helped show Wood the ropes of pitching in the big leagues, including studying video of hitters to get an edge the scouting reports may not always provide. Wood said that pitching coach Roger McDowell steered him toward Minor early on to learn the preparation required to handle the ups and downs of being a member of the rotation.
"[Minor] and I are pretty similar in how we go about pitching guys and going through lineups, so it's nice to kind of have a second pair of eyes and another mind that kind of thinks the same ways you do, in terms of going about your business and how you go through these lineups," Wood said. "He's been a huge help to me for sure, without a doubt."
"The last couple games, he's had some struggles, but I think that's what's going to happen," Minor said. "You always think you've got it until you have that bad game, and then it kind of humbles you, and you have to get back to work."
Heading into the final weeks, the Braves have indicated how much they value both lefties, giving Minor a few extra days of rest in late August and sending out Freddy Garcia in place of Wood for Thursday's series finale in Miami, a 6-1 Braves win.
"It's getting down to the home stretch here before the playoffs, and I'm just feeling real fortunate to be a part of a team like this, especially in my first year playing in the league," Wood said. "It's been pretty special, and hopefully it'll only get better."
Eric Single is an associate reporter for MLB.com. This story was not subject to the approval of Major League Baseball or its clubs.