Heyward takes BP for first time since breaking jaw
Heyward takes BP for first time since breaking jaw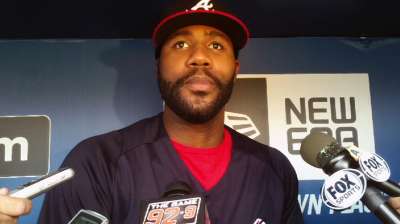 ATLANTA -- Jason Heyward rejoined his teammates as a full participant in pregame warm-ups on Friday afternoon at Turner Field for the first time since suffering a fractured jaw when he was hit by a fastball from Mets pitcher Jon Niese on Aug. 21.
After going through an entire batting practice session without incident, Heyward reiterated that he would not have been cleared for any new activity if he had not been steadily making progress in recovering his strength and comfort at the plate and on the field while the Braves were on their recent seven-game road trip.
"Nothing's holding me back," Heyward said. "I have to let time take its course now."
Heyward shagged fly balls in right-center field for the opening rounds of batting practice before heading to the cage to hit with a group that also consisted of outfielders Reed Johnson and B.J. Upton and second baseman Dan Uggla. With first base coach Terry Pendleton throwing, Heyward took swings wearing a helmet that had a special additional cover to protect his right jaw from the helmet's earhole all the way down to the edge of his mouth.
"He said he's feeling better," manager Fredi Gonzalez said. "His strength is back. Obviously, when you can start eating solid food, you get your strength back a lot better. I'm just looking forward to see him hit on the field."
On Monday, the bars and bands that were restricting the movement of Heyward's jaw were removed. While the resumption of batting practice was a critical step in Heyward's return to full baseball activities, Gonzalez elected not to set any new timetable for the next steps toward his return.
"I'm just letting him go out there, let him run around, let him do whatever he's capable of doing," Gonzalez said.
Earlier this week, general manager Frank Wren said that Heyward would be sent to the instructional league at some point in the coming weeks in order to see some live pitching before returning to action as the Braves prepare for October.
Eric Single is an associate reporter for MLB.com. This story was not subject to the approval of Major League Baseball or its clubs.