Gonzalez placing value in productive lineups
Gonzalez placing value in productive lineups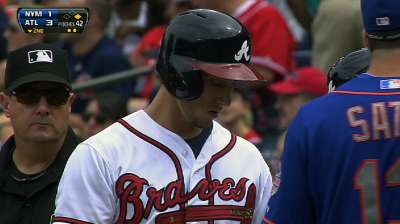 MIAMI -- As his team attempts to finish this season with the National League's best record and gain home-field advantage for the NL portion of the postseason, Braves manager Fredi Gonzalez's lineup decisions will not be influenced by financial elements.
The lineups Gonzalez constructed for the first two games of this week's series against the Marlins did not include B.J. Upton or Dan Uggla -- the club's two highest-paid players. Both veterans have hit below .200 most of this season and provided Jordan Schafer, Evan Gattis and Elliot Johnson the opportunity to prove they are better options.
"You've got to go with whatever you think is best to win that day," Braves manager Fredi Gonzalez said. "We all want to win. We also want to see what we have moving forward too."
With Jason Heyward sidelined, Schafer stands as the only logical option to fill the leadoff spot. Along with hitting .268 with a .345 on-base percentage while batting in the lineup's top spot, Schafer has proven to be a better defensive center fielder than Upton.
Upton has provided occasional signs of encouragement while hitting .239 since he returned from a three-week stint on the disabled list in early August. But with the need to play Schafer and the once-again imposing Gattis in the outfield on an everyday basis, there is not currently an available lineup spot for Upton, who signed a franchise record five-year, $75.25 million contract in November.
Uggla has batted .133 with a .366 on-base percentage in the 41 plate appearances he has compiled since returning from LASIK surgery on Aug. 28. His extended struggles have led the Braves to give Johnson a chance to prove he is capable of handling second base duties.
Since being claimed off waivers from the Royals on Aug. 21, Johnson has batted .256 (10-for-39) with a .275 on-base percentage and three stolen bases.
Mark Bowman is a reporter for MLB.com. This story was not subject to the approval of Major League Baseball or its clubs.