First steal snatched from Braves rookie Gattis
First steal snatched from Braves rookie Gattis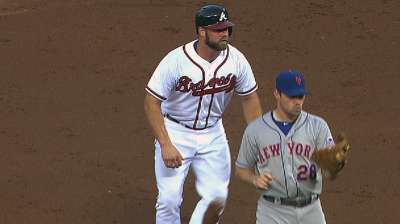 ATLANTA -- For about half an hour on Tuesday night, Evan Gattis thought he had his first Major League steal.
After lacing a single to right field in the bottom of the second inning, the 6-foot-4, 230-pound Gattis took off for second base and slid in safely after a pitch in the dirt from starter Carlos Torres eluded Mets catcher Travis d'Arnaud and rolled a few feet in front of home plate. The play was initially ruled a stolen base, but the official scoring was changed a few innings later to a wild pitch.
Though Gattis was disappointed, he was able to understand and appreciate the scoring change from a catcher's perspective, having split his time behind the plate and in left field for Atlanta this year. The popular Atlanta rookie recorded a total of four steals in the Braves' Minor League system in 2011 and '12.
Eric Single is an associate reporter for MLB.com. This story was not subject to the approval of Major League Baseball or its clubs.