Braves add Loe, who will give Teheran break
Braves add Loe, who will give Teheran break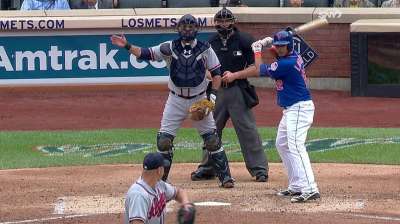 ATLANTA -- Verifying that it would not be easy to predict each of the players they will add to their expanded roster over the next few days, the Braves provided some surprise when they purchased right-handed pitcher Kameron Loe's contract from Triple-A Gwinnett on Monday.
The reasoning for this decision became a little clearer late Monday afternoon, when Braves manager Fredi Gonzalez announced Loe will start in Julio Teheran's place during Wednesday's series finale against the Mets. This allows the club to stick with its plan to give Teheran some extra rest during the final month of his first full Major League season.
In an effort to give him a breather leading up to the postseason, the Braves will keep Teheran out of their rotation until he starts against the Marlins on Sept. 10. The 22-year-old right-hander has compiled 161 1/3 innings in 26 starts. He totaled a professional-high 164 1/3 innings while pitching for Atlanta and Gwinnett in 2011.
Gonzalez said Freddy Garcia would have likely started in Teheran's place. But that option was erased when Garcia was forced to pitch 4 2/3 innings after Alex Wood exited Sunday's loss to the Marlins in the third inning.
"They told me to be ready for the bullpen or to spot start," Loe said. "I'm excited that I'm getting this opportunity."
Along with having the ability to start, Loe will add some depth to a bullpen that has been without right-handed setup man Jordan Walden since he strained his groin while running in St. Louis on Aug. 24. Walden could be unavailable for at least one more week. He felt more discomfort when he tested his sore groin during a brief bullpen session on Monday morning.
Loe has played with three Major League teams this season and joined the Braves organization in mid-May after pitching for the Mariners and Cubs in the opening month. Loe made only two appearances in his brief first stint with the Braves in late July, working a scoreless eighth inning on July 23 and getting saddled with a loss two days later after he gave up three earned runs in 1 2/3 innings.
After he was outrighted to Gwinnett on July 29 to clear room for the addition of Scott Downs to the Atlanta bullpen, Loe found a measure of success in his return to a starting role, allowing one earned run or less in four of his last five starts in Triple-A.
"I ended up talking my way into the starting rotation down there," Loe said. "I wanted to do that so I could work on my changeup, my cutter, a couple other things that I felt like I needed to do, and it gave me a chance to get a lot of repetitions, which is good."
To create a spot for Loe on the 40-man roster, the Braves transferred Tim Hudson to the 60-day disabled list.
Mark Bowman is a reporter for MLB.com. Eric Single is an associate reporter for MLB.com. This story was not subject to the approval of Major League Baseball or its clubs.