Veteran Garcia provides solid long relief after callup
Veteran Garcia provides solid long relief after callup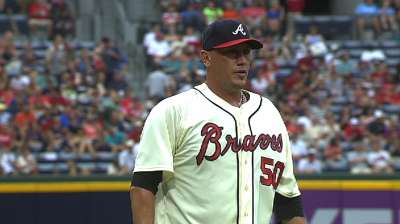 ATLANTA -- The Braves moved to bolster their bullpen on the first day of September roster expansion, selecting the contract of veteran right-hander Freddy Garcia from Triple-A Gwinnett to add a long reliever and potential spot starter charged with eating innings and easing the load of the rotation down the stretch. They could not have expected how quickly their recent callup would receive his first assignment.
When the typically punchless Marlins exploded for seven runs in 2 1/3 innings off rookie starter Alex Wood on Sunday night, Garcia entered with runners on second and third and escaped the inning without further damage thanks to a pair of sharp groundouts.
The 36-year-old veteran only improved from there on his way through 4 2/3 scoreless innings, allowing three hits and a walk and adding two strikeouts in his first Major League work since June 23. After stranding another pair of baserunners in a 20-pitch fourth inning, Garcia worked quickly through the fifth, sixth and seventh, throwing a total of just 26 pitches over those three frames.
"He did a nice job navigating through that lineup, taking a little off, putting a little on, spinning it," manager Fredi Gonzalez said. "You could see the experience, you could see all that kind of stuff. He didn't panic in certain situations and he really saved our bullpen today. Good for him, and good for us."
Garcia was acquired from the Orioles for cash considerations on Aug. 23, making only one start for Gwinnett before the Braves brought him up on Sunday, the first day teams may carry a maximum of 40 players on their active roster.
That initial Minor League start on Aug. 26 went off the rails early. Facing Norfolk, the Triple-A team he had been traded away from three days earlier, Garcia allowed eight earned runs on seven hits and issued five walks before being pulled after 3 2/3 innings. Sunday's performance provided the right-hander some assurance he could still contribute to oa playoff-bound club.
"It was cool to get in the game and throw some innings," Garcia said. "They brought me here to do this job -- long reliever, whatever, start if they need me -- so I'll be ready for anything."
In his 15-year career that includes a pair of All-Star appearances and a World Series championship in 2005 with the White Sox, Garcia has now appeared a total of 17 times out of the bullpen, all but one of which have come in the last three seasons. He carries a career 1.97 ERA as a reliever, but he struggled as a starter in his only Major League stint with Baltimore this year, posting a 5.77 ERA in 11 games before being optioned to Norfolk in late June. On Sunday, he rarely touched 90 mph but kept the Marlins at bay by commanding his sinker-slider mix, missing the strike zone for balls on only 15 of his 53 pitches.
"Whatever it takes to get people out -- it doesn't matter how hard you throw, it's how you get people out," Garcia said before Sunday's game. "Some guys throw hard, and they don't get anybody out. I used to throw hard, I don't anymore, but I figured out how to get people out, so that's what I'm doing."
Gonzalez expected to bring two more players up to Atlanta following the conclusion of the Minor League season on Monday, in addition to the return of Evan Gattis from his brief three-game stay in Gwinnett. The Braves will also add outfielders Reed Johnson and Jason Heyward to their expanded roster once they are able to return from their respective injuries.
"You got your fingers crossed that Reed could come during this month of September and then Jason could come later on this month, so it depends on how that goes," Gonzalez said. "You don't want to flood your roster with a lot of people just standing around."
Mark Bowman is a reporter for MLB.com. Eric Single is an associate reporter for MLB.com. This story was not subject to the approval of Major League Baseball or its clubs.