Uggla returns from DL confident in approach
Uggla returns from DL confident in approach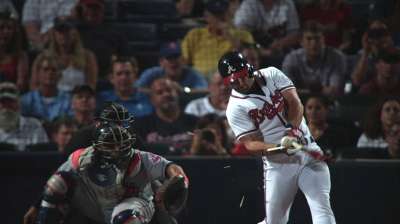 ATLANTA -- Dan Uggla's 2-for-4 night with Triple-A Gwinnett on Tuesday confirmed the Braves' hope that their starting second baseman would spend only the 15-day minimum on the disabled list recovering from LASIK surgery done on Aug. 16.
With Uggla back in the starting lineup for Wednesday night's game against the Indians -- batting sixth and playing second base -- both team and player were prepared to face the next unknown in dealing with his vision problems that have taken months to adequately correct.
Uggla went 1-for-3 with a walk and a broken-bat infield single in the Braves' 3-2 walk-off win, but he also took a few wild swings in a pair of strikeouts.
"Facing [Indians starter Justin] Masterson tonight didn't help any -- he's tough to pick up anyway," Uggla said. "It's still baseball, this game's still hard. I'm still going to have bad games, and I'm going to have good games, but the bottom line is, I'm in a consistent place now and I'm just happy where I'm at."
The offense has idled in the week since right fielder Jason Heyward sustained a broken jaw, drawing even more attention to Uggla and the question of how much the procedure could turn around what has been a challenging season for the 33-year-old veteran.
"I was a lot more confident in the box, and just that alone is more than half the battle," Uggla said. "Actually being able to see the ball, and as I got more at-bats and was seeing more pitches, every pitch felt that much better."
Uggla had prepared for the worst when he realized the earlier start times for his two scheduled rehab games in Gwinnett meant he would have to deal with a few tricky shadows in the batter's box. But after going 0-for-3 with a pair of strikeouts on Monday and striking out looking in his first two plate appearances on Tuesday, he belted a solo home run in the fifth inning and followed with a single in the seventh, tacking on some tangible results to a confidence-building process that was already well underway.
"It's not like it was a pulled hamstring or anything like that," Braves manager Fredi Gonzalez said. "I've seen the good swings during BP. During the road trip, he hit every day, so it was just a matter of him getting some timing down and seeing some live pitching."
While Gonzalez added that the Braves were willing to be patient with results -- managing a player recovering from midseason LASIK surgery represents uncharted waters for the coaching staff -- there was comfort in the fact that Uggla ended his stay in Gwinnett with a pair of hits after recording outs his first five times facing live pitching.
After hitting his 21st home run of the season on July 25 in New York, Uggla batted .083 with 23 strikeouts in 17 games before being placed on the disabled list on Aug. 13. To make room for Uggla's return to the 25-man roster on Wednesday, the Braves optioned outfielder Todd Cunningham to Gwinnett.
Mark Bowman is a reporter for MLB.com. Eric Single is an associate reporter for MLB.com. This story was not subject to the approval of Major League Baseball or its clubs.