Wood cites McDowell for giving helping hand
Wood cites McDowell for giving helping hand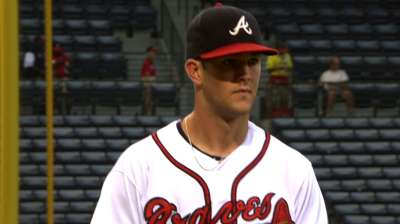 ATLANTA -- After issuing consecutive two-out walks in the third inning of Tuesday night's 2-0 win over the Indians, southpaw Alex Wood received a visit from Braves pitching coach Roger McDowell. The rookie responded to the brief meeting by getting the next batter he faced -- Mike Aviles -- to ground out.
While Braves bench coach Carlos Tosca did not specifically know what Aviles would do, he was pretty confident what the result would be. From the start of Spring Training through approximately the first six weeks of this season, Tosca charted what happened following a visit to the mound from McDowell. Tosca said 97-98 percent of the time the Braves pitcher responded by retiring the next batter.
"There's a confidence factor and a trust factor involved," Tosca said. "There's a calming effect right away from him. He slows you down and then he gives you a direction. He gives you an attack plan, how to attack that particular guy in that particular situation, instead of being wishy-washy or guessing or saying, 'Why don't we try this?'"
Wood said the visits from McDowell slow him down when necessary and also provide him confidence that their approach to a certain batter or particular situation will be effective.
"It's kind of a soothing factor, I guess," Wood said. "He has an idea, he watches a lot of video like the rest of the starters, and he comes out and he kind of has an idea of what he thinks we should do to that hitter. That's usually a big help, and then we go and do it, and as long as we execute, it usually ends up working out pretty good."
Mark Bowman is a reporter for MLB.com. Eric Single is an associate reporter for MLB.com. This story was not subject to the approval of Major League Baseball or its clubs.