Simmons adds to defensive legend with unreal DP
Simmons adds to defensive legend with unreal DP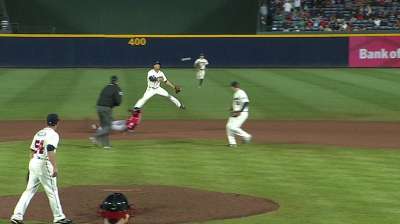 ATLANTA -- When asked to provide the best defensive play he has seen Andrelton Simmons make, Braves manager Fredi Gonzalez has often said, "the next one." But it might be difficult for Simmons to top what he did in the 14th inning of Saturday's 8-7 loss to the Nationals.
With runners at first and second and one out, Simmons was leaning toward third base in expectation of having to cover the bag when Nationals reliever Craig Stammen produced a sacrifice bunt attempt. When Stammen pulled his bat back and sent a chopper up the middle, Simmons redirected his momentum and grabbed the ball just to the left of second base.
"That was huge with us having the bunt play on where guys were crashing over, and for him to still be able to get over there," Braves pitcher Kris Medlen said.
Getting to the ball was the easy part. Simmons then proceeded to do the improbable by stepping on second base as he was falling back toward center field and made an off-balance throw that was somehow strong enough to beat Stammen to first and complete an inning-ending double play.
"I wasn't even thinking about him throwing the ball to first," Braves third baseman Chris Johnson said. "He's amazing. He's the best shortstop I've ever seen."
According to FanGraphs.com, Simmons currently leads all Major League shortstops with 36 Defensive Runs Saved and a UZR/150 of 26.6. Both marks would rank as the best recorded by a shortstop since these defensive metrics were adopted in 2002.
Mark Bowman is a reporter for MLB.com. Eric Single is an associate reporter for MLB.com. This story was not subject to the approval of Major League Baseball or its clubs.