Police call death of Braves fan Homer an accident
Police call death of Braves fan Homer an accident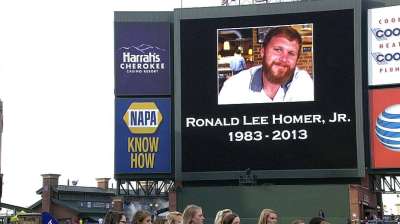 ATLANTA -- The death of the man who fell from the fourth level of Turner Field on Monday was described as accidental by an Atlanta police report released on Tuesday afternoon.
Ronald Lee Homer Jr., 30, of Conyers, Ga., fell from the upper level into the players' parking lot before the game against the Phillies, according to the report. Multiple witnesses said there were no other people around Homer when he fell; there were no surveillance cameras in the area.
Officers responded to the situation at approximately 8:30 p.m. ET, after which time Homer was transported to Atlanta Medical Center, where he died from his injuries. According to the report, Homer was unconscious and not breathing when EMS units arrived on the scene and began to perform CPR.
The incident occurred during a rain delay that pushed back Monday night's first pitch by one hour and 48 minutes.
"The Atlanta Braves extend our sincerest and heartfelt condolences to Mr. Homer's family and friends," the team said in a statement issued on Tuesday afternoon. "We are saddened by this tragic incident and will continue our investigation along with the Atlanta Police Department. We will have no further comment until the investigation is complete."
The team also announced that a moment of silence will be observed for Homer before Tuesday night's game against the Phillies.
"You come to a baseball game and some crazy stuff like that happens," manager Fredi Gonzalez said on Tuesday. "Again, I don't know what happened, but you've got to feel for the family. You don't expect those things when you come to a baseball game or a sporting event."
Mark Bowman is a reporter for MLB.com. Eric Single is an associate reporter for MLB.com. This story was not subject to the approval of Major League Baseball or its clubs.