Kimbrel joins Smoltz with third 30-save season
Kimbrel joins Smoltz with third 30-save season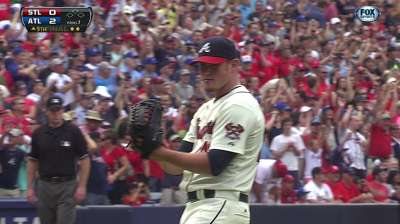 ATLANTA -- Braves closer Craig Kimbrel joined one of the franchise's all-time greats with Saturday night's scoreless ninth inning, matching John Smoltz as the only Atlanta pitchers to record 30 saves in three different seasons.
Kimbrel was quick to put the accomplishment in perspective ahead of his team's Sunday series finale against the St. Louis Cardinals,a potential playoff opponent, having already closed out a pair of hard-fought victories in back-to-back days to clinch a series win.
"Like I say every Spring Training, I'm not going into a season saying I want to get a certain number of saves or a certain number of opportunities," Kimbrel said. "When I get those opportunities, I want to take advantage of them. We could be a winning ballclub but not have many save opportunities, or we could not win a lot of ballgames and have a lot of close games."
Kimbrel has converted 20 consecutive save opportunities since his last blown save on May 7, striking out 41 batters in 26 innings. He has allowed just one hit and three walks since his last earned run allowed, which broke a tie game against the Marlins on July 4. His raw numbers have dropped only slightly from the Herculean totals he posted in 2012, but he did enough in the first four months of 2013 to earn his third consecutive All-Star selection and help the Braves build the largest division lead in baseball.
"The way I look at last year, I was going out there and doing my job," Kimbrel said. "I had some pretty numbers to go along with it, strikeouts, not very many walks, not very many baserunners, but the bottom line is obviously just being able to go out there and get the save."
Kimbrel was in high school when Smoltz was reinventing himself as one of the best closers in the game, racking up 144 saves between 2002-04 and posting three of the franchise's top four single-season save totals.
"How many closers throw five pitches?" Kimbrel said of Smoltz. "It was almost unfair for him to be closing because obviously as a hitter, they eliminate pitches late in the game. The guy's got five pitches, they really can't do that."
Both players accomplished the feat in three consecutive years, and they can now lay claim to half of the franchise's 30-save seasons in franchise history. While Kimbrel does not boast that five-pitch repertoire, he can more realistically aspire to the regular appearances in the postseason that Smoltz's success out of the bullpen helped inspire.
"It means we're playing a lot of close games and we're winning a lot of close games," Kimbrel said. "It shows that I've been able to have those opportunities over the last three years, which just means that we're winning a lot of ballgames."
Eric Single is an associate reporter for MLB.com. This story was not subject to the approval of Major League Baseball or its clubs.