Minor adds back-foot cutter to repertoire
Minor adds back-foot cutter to repertoire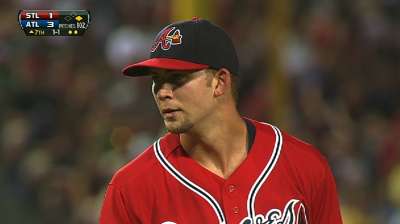 ATLANTA -- The Cardinals had not seen Mike Minor in a regular-season game since May 11 of last year, so many of their right-handed hitters were surprised to see the left-hander challenge them inside on Friday night with a cut fastball that started inside and dove to their back foot in the batter's box.
"He's throwing a little cutter now," right fielder Carlos Beltran said after Friday's game. "He didn't have that before. That's another pitch that, as a hitter, he puts in your head. He was basically in the bottom part of the strike zone and did a good job."
The back-foot cutter was just one facet of Minor's dominant start, with St. Louis catcher Yadier Molina's solo home run in the second inning the only blemish over seven strong innings in the Braves' 4-1 win.
"I made sure I established in, so even if it wasn't a fastball, it was a cutter at the back foot, which makes them move their feet or makes them think in," Minor said. "They have to respect it, and then I think I had a couple of strikeouts with fastballs in, and they have to make a decision."
The pitch, which Minor said on Saturday was too slow to be considered a true cutter, typically sits between 86-87 mph at the beginning of games and drops a few clicks as his start goes on. While it has always been part of his arsenal as a back-door pitch over the outside corner to righties and a front-door pitch on the inside edge to lefties, Minor has only recently developed the confidence to throw it low and inside to righties in game situations.
It resurfaced for good in his July 3 start against Miami, and since that game, Minor is 2-2 with a 2.62 ERA and only two home runs allowed, one on a four-seam fastball to Miami's Justin Ruggiano and one on the changeup he left over the plate to Molina on Friday night.
"I gave up a lot of home runs last year on it, so I kind of just canned it," Minor said of the cutter. "Lately, [catcher Brian McCann] has been calling it more, and I know when he calls it, it's either down at the knees for a strike or it's a ball. I just make sure, 'Hey, if you're going to throw this, you're going to make sure it's in and make sure it's down. You're not going to leave it up.'"
Slowly, Minor is building up trust in his ability to bury the cutter and limit mistakes against right-handed hitters to add another option to the arsenal of pitches and locations with which the lefty has stumped batters.
"Beginning of the year in the bullpens, I was throwing some good ones, but I was too scared to throw it in the game because I had flashbacks to Spring Training of the ball going straight down the middle," Minor said. "But I took a chance, I started throwing it in 0-0 counts. It's got a little bit of movement, and that's all you need."
Eric Single is an associate reporter for MLB.com. This story was not subject to the approval of Major League Baseball or its clubs.