Beachy poised to take injured Hudson's slot
Beachy poised to take injured Hudson's slot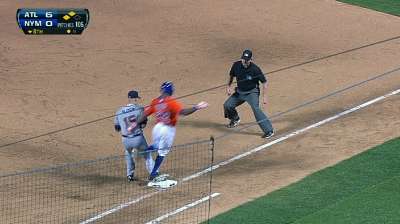 NEW YORK -- Brandon Beachy appears to be the obvious choice to replace Tim Hudson in Atlanta's starting rotation. But before making this official, the Braves will first make sure Beachy rebounds from Wednesday night's Minor League rehab start for Triple-A Gwinnett.
Less than an hour before Hudson broke his right ankle in the eighth inning of Wednesday's win over the Mets, Beachy completed what Braves general manager Frank Wren described as the most impressive of the four rehab starts he has made for Gwinnett this month.
Beachy lines up to take what would have been Hudson's next turn in the rotation on Monday against the Rockies. But Wren and manager Fredi Gonzalez said they would wait at least one more day to officially announce their plans for Monday.
"We've got to wait to see how he wakes up this morning," Gonzalez said. "But I don't see any reason why he would wake up sore or any of that kind of stuff. He'll throw a bullpen [session] tomorrow or the next day, and he'd be a perfect fit to put in there in that Monday slot."
Gonzalez said the reports he received indicated Beachy displayed a good breaking ball and consistent command as he limited Durham to two hits and two runs (one earned) while throwing 86 pitches on Wednesday. More importantly, Beachy, who is attempting to return from Tommy John surgery, was not bothered by the right elbow discomfort that he experienced during the Minor League rehab stint he completed in June.
When the Braves announced earlier this week that Alex Wood would start Thursday afternoon's game against the Mets, they indicated their plan was to place Paul Maholm on the disabled list. But the club instead opted to place Hudson on the disabled list when Wood was officially recalled from Gwinnett on Thursday.
As long as Maholm is not needed to make an emergency appearance over the next few days, he could be placed on the disabled list on Monday to make room for Beachy.
Maholm has been sidelined since exiting Saturday's start against the White Sox with what the Braves have termed a bruised left wrist. The left-hander's wrist was still visibly swollen on Thursday, but there's reason to believe he'll be ready to pitch when he is eligible to be activated from the disabled list on Aug. 5.
Once Maholm returns, the Braves will likely have to choose whether to move either Wood or Kris Medlen to the bullpen.
"You don't know what is going to happen in the future, but yeah, you feel good," Gonzalez said. "You've got six starters and you feel good about the guys. Yeah, you've got young pitchers. But you've got to grow up sooner or later."
Mark Bowman is a reporter for MLB.com. This story was not subject to the approval of Major League Baseball or its clubs.