No guarantees for Wood in Braves' rotation
No guarantees for Wood in Braves' rotation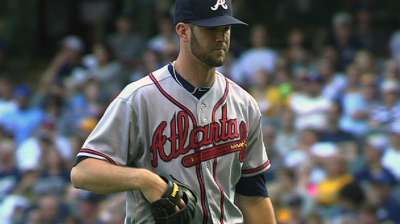 NEW YORK -- If Alex Wood is effective in the two starts he could make over the next week, the Braves will have one of those tough decisions every pitching-hungry team would like to make. But for now, Braves manager Fredi Gonzalez is not committing to keeping Wood in the starting rotation beyond Paul Maholm's potential return from the disabled list in early August.
After spending six weeks in Atlanta's bullpen, Wood returned to the Minor Leagues last week to make a start for Triple-A Gwinnett. The five-inning effort proved encouraging enough for the Braves to assign him the role of pitching in Maholm's place during Thursday afternoon's series finale against the Mets.
Wood will enter this outing better prepared than he was when he made his only previous Major League start in the first game of a June 18 doubleheader against the Mets. As he totaled 73 pitches in just three innings that afternoon, it was apparent he was affected by nerves and the fact that he had not made a start in the three weeks since he had been promoted from Double-A Mississippi.
"I expect him to have a better start than he did in game one of that doubleheader against the Mets," Gonzalez said. "I expect him to be a little more comfortable doing it."
Wood will likely have an opportunity to make at least two starts before Maholm is eligible to come off the DL on Aug. 5. If there is not an available spot in the rotation once Maholm returns, Gonzalez said there is a chance Wood could move back to the bullpen.
"A week down the road or two weeks down the road, if we need to move him to the bullpen, we can do that," Gonzalez said.
While Wood's long-term future is as a starter, he could provide more value as a reliever for the remainder of this season. The Braves will continue to search for a left-handed reliever before next week's Trade Deadline. But the asking price has been quite steep for some of the pitchers on their wish list.
After Wood threw 57 pitches in 3 2/3 scoreless innings against the Reds on July 12, the Braves saw a prime opportunity to send him to the Minors to begin stretching out as a starter. Wood threw 73 pitches in last week's start for Gwinnett. Gonzalez said the 22-year-old southpaw will be permitted to throw approximately 90 pitches on Thursday.
"Like I've done all year, I just want to go out there and throw well and give us a chance to win," Wood said. "The other stuff can take care of itself."
Mark Bowman is a reporter for MLB.com. This story was not subject to the approval of Major League Baseball or its clubs.