Laird among Braves in favor of Braun's punishment
Laird among Braves in favor of Braun's punishment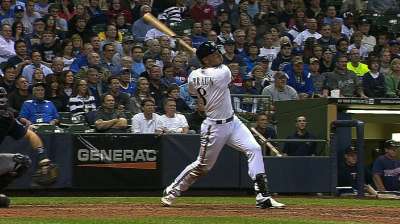 NEW YORK -- Count Braves veteran catcher Gerald Laird among the Major League players who were not feeling any compassion on Monday, when Brewers outfielder Ryan Braun accepted a suspension through the remainder of this season for violations of Major League Baseball's Joint Drug Prevention and Treatment Program.
"I don't really feel bad for him," Laird said. "I wouldn't know how to talk to my parents and my grandparents and my kids. I'd be embarrassed. He's embarrassed not only himself, but his whole family.
"I still think he's a great player. But he carried this on for so long and lied, and continued to lie and continued to throw people under the bus. Now you want everybody to feel sorry for you. No, sorry. I still don't think [the penalty] is as sharp as it should be. I think he's getting off easy."
With the Brewers 19 games out of first place in the National League Central, Braun agreed to accept this punishment and forfeit the approximate $3.5 million he is owed for the remainder of this season. But he will be eligible to return next year to collect at least $120 million over the final seven years of his current contract.
This does not necessarily sit well with players like Braves veteran outfielder Reed Johnson, who has earned approximately $14 million while never playing with the luxury of a multiyear contract since breaking into the big leagues in 2003.
"You look at it from a financial standpoint, you lose three or four million dollars in salary," he said. "But because you [used performance-enhancing supplements], you got a $150 million contract."
But Johnson said most of his frustration centers around the fact that Braun and other players linked to performance-enhancing drugs have chosen to cheat the challenge of enduring the daily grind of a 162-game season.
"You look at what we've put our bodies through every day just to get ourselves out on the field, if you're doing that, it makes it a whole lot easier to get your body out on that field," Johnson said. "You don't have to do the same kind of preparation. That's the hardest part of this game, all that preparation you have to do just to get your body ready to go out there and play. That becomes easier when you're not doing things the right way. I think that's what players are most upset about.
"Guys are always going to be trying to get a leg up on the competition. But at the end of the day, I guess the program we have in place is showing that it is working. So I guess that is a positive for the players and the league in general."
The baseball world is waiting to learn what will happen with Alex Rodriguez and the other players, who, like Braun, have been linked to Biogenesis, the now-defunct Miami "wellness clinic" that allegedly supplied these players with banned substances.
"I'm glad it's happening," Laird said. "We're going to clean the game up and honestly, I hope they catch all of them."
Mark Bowman is a reporter for MLB.com. This story was not subject to the approval of Major League Baseball or its clubs.