New faces in Braves outfield due to injuries
New faces in Braves outfield due to injuries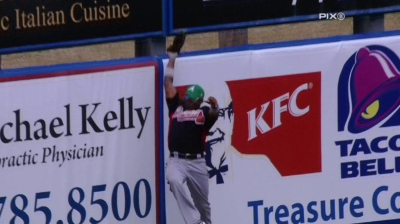 ATLANTA -- The Braves were in the awkward position on Saturday of having three starting outfielders who were injured, but not injured enough to justify a trip to the disabled list that would rule them out of a handful of games following the All-Star break.
Thanks to the upcoming four-day break, the team was able to get creative with its lineup shuffling, handing two outfielders their first starts of the season on Saturday and sending down one of the club's most productive long relievers for what could be just a brief stint in the Minors.
"I think that we're lucky that the All-Star break is around the corner where you can use those four days," manager Fredi Gonzalez said. "If we were in the middle of a 19-day stretch or something like that, it would be a lot tougher to deal with the injuries, but with the four days of the All-Star break, I think it comes at the right time, if there is such a thing. I think if it's in the middle of a long stretch, it would be a no-brainer to say 'We're going to have to DL somebody.'"
Instead of sending anyone to the disabled list, the Braves optioned Alex Wood to Triple-A Gwinnett to make room for outfielder Jose Constanza, who the Braves tabbed to lead off and play left field in Saturday's game against the Reds. Constanza was making his first start of the 2013 season after hitting .250 with five steals in 86 plate appearances in 2012.
"He always seems like he energizes you," Gonzalez said of Constanza.
Wood has made one start and 15 appearances out of the bullpen since getting his first big league callup on May 30. On Friday night, the rookie left-hander threw 57 pitches and retired 10 straight batters over 3 2/3 innings in relief of Kris Medlen, making it unlikely he would be available for the team's remaining two games before the break.
"Today, if we get a crazy game, Paul Maholm, he could go to the bullpen and give us some length at the end of the game if we play one of those crazy 15- or 16-inning games or we lose a starter in the second, that kind of stuff," Gonzalez said. "He pitched Wednesday, so he's had a couple of days off."
Rookie Joey Terdoslavich earned his first Major League start in right field on Saturday after playing the field for the first time in his big league career on Friday night when he took over in left after B.J. Upton exited with an injury. Terdoslavich used his first action of the game, a double by Zack Cozart in the fourth inning, to settle in on defense.
"I got off on it and threw it to [Andrelton] Simmons," Terdoslavich said on Saturday. "That's like the one that really got me going in the game and started getting me a little more comfortable."
One day later, Terdoslavich had been moved to the opposite corner outfield position, just one of the players ready to be shuffled around once again as the Braves continued to navigate their recent rash of injuries.
Eric Single is an associate reporter for MLB.com. This story was not subject to the approval of Major League Baseball or its clubs.