Uptons leave game with injuries; Constanza called up
Uptons leave game with injuries; Constanza called up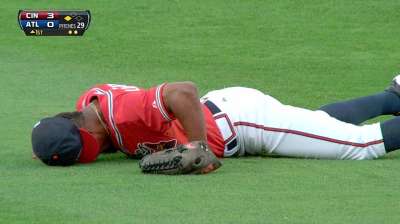 ATLANTA -- One night after Jason Heyward left with a strained right hamstring, the Braves lost the rest of their Opening Day outfield to a pair of muscle strains that have pushed the Braves' depth to its outer limits.
First, center fielder B.J. Upton left Friday night's 4-2 loss to the Reds in the first inning with a right adductor muscle strain after diving for a ball. Then in the seventh inning, Justin Upton pulled up halfway to first running out a ground ball and exited the game with a left calf strain.
Manager Fredi Gonzalez's midgame shuffling left the Braves to finish out the game with an outfield no one could have predicted at the start of the season: Joey Terdoslavich in left, Tyler Pastornicky in center and Reed Johnson in right.
Less than an hour after the game, the Braves recalled Jose Constanza from Triple-A Gwinnett to give the Braves another healthy outfielder. The diminutive but speedy Constanza appeared in 37 Major League games in 2012 and is hitting .260 with 13 RBIs and 17 stolen bases in 63 games with Gwinnett this year.
Upton came in on a dead run to make a play on a sharp line drive off the bat of Todd Frazier, diving only to have the ball skip off the end of his glove, off his left leg and into right-center. Upton's right knee appeared to stick in the ground on the dive, which twisted the rest of his body awkwardly as he fell. He remained down for several minutes as manager Fredi Gonzalez and assistant athletic trainer Jim Lovell came out to center field, but he was able to walk off under his own power.
"With the backdrop, it's tough to see sometimes, and when I kind of dove for [the ball], it was a lot higher than I thought it was, and I think if I could've seen it a little bit better, we probably wouldn't be dealing with this situation right now," Upton said.
To replace B.J. Upton, Johnson moved from right to center field, Justin Upton moved from left to right and Terdoslavich came in to play left field, the rookie's first Major League appearance in the field. When Justin Upton walked gingerly back to the dugout after grounding out to end the seventh, Pastornicky entered the game to play center field.
"My calf kind of locked up on me, and that was kind of it halfway down the line," Upton said. "It's calmed down, it's a little sore, and we're kind of going to play it by ear tomorrow."
The Braves have not yet announced a corresponding roster move for the addition of Constanza, as all three injured outfielders will be re-evaluated tomorrow. The four days of rest offered by the All-Star break could make the team wary of deactivating any of the three who may be back to 100 percent when the Braves play next Friday in Chicago.
"Unfortunately it goes that way sometimes, but we're a good enough ballclub to get things done, and luckily we have the All-Star break coming up to get some guys some rest," B.J. Upton said.
"It's been a little bit rough, but as usual, we'll make it through," Justin Upton said. "Our guys off the bench are going to do what they do, and we'll be fine."
Eric Single is an associate reporter for MLB.com. This story was not subject to the approval of Major League Baseball or its clubs.