Heyward likely to avoid DL after hamstring injury
Heyward likely to avoid DL after hamstring injury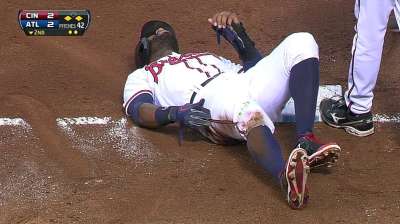 ATLANTA -- Braves right fielder Jason Heyward remains day to day in his return from a strained right hamstring that forced his early exit from Thursday's game against the Reds.
"I felt better today than I did last night," Heyward said on Friday afternoon. "More flexibility in my hamstring, less pain. It's not as uncomfortable, but there still is pain. I'm still really sore. Still day to day, and that's how we're going to take it and see how I feel each day."
Heyward felt pain in his right hamstring running from second to third in the bottom of the second inning on Thursday, staying down on the ground after sliding into the bag before walking off the field on his own power, accompanied by manager Fredi Gonzalez and team trainer Jeff Porter. Heyward said after Thursday's game that he did not believe the injury was serious, and the encouraging overnight report made it more likely that the 23-year-old right fielder would be able to avoid a trip to the disabled list.
"That's a good sign," Braves manager Fredi Gonzalez said. "We're going to call it just day to day, but if we could just keep improving every single day and get him through the weekend, I think we'll be in good shape when we come back from the All-Star break."
With four days of rest built into the upcoming schedule thanks to the break, Heyward planned to play it safe in monitoring his injury over the rest of the Reds series. Given the lingering soreness 24 hours later, that cautious mindset would make a return to the lineup before the break unlikely.
"Going into it, I would say the smarter thing to do would probably be not play, but that's just what I know right now," Heyward said. "We'll see tomorrow, if I feel great tomorrow, we'll see about the next day, but right now, the best thing to do is be cautious. Knowing that there's four days coming up off with the All-Star break, it'd be good to get this time to earn a rest and come back not worrying about further hurting myself coming back too soon."
Reed Johnson earned the start in right field for Friday night's game and will serve as the Braves' primary replacement for Heyward until he can return to the lineup. After entering the game in place of Heyward in the second inning on Thursday, Johnson delivered a go-ahead RBI triple in his first at-bat as part of a three-run fourth inning in the Braves' 6-5 win.
"Let's just go out and use the guys that we have here," Gonzalez said. "If anything goes wrong with the guys that are playing, Reed or Justin [Upton] or B.J., you can run [Tyler] Pastornicky out there, you can run [Joey] Terdoslavich out there. We have some options."
Eric Single is an associate reporter for MLB.com. This story was not subject to the approval of Major League Baseball or its clubs.