B.J. Upton's solid night has Braves optimistic
B.J. Upton's solid night has Braves optimistic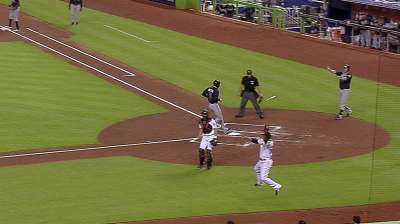 MIAMI -- B.J. Upton understands one game does not completely separate him from the struggles he has endured throughout this season. But as he drilled three line drives and produced four quality plate appearances in Tuesday night's win over the Marlins, Upton gave the Braves reason to believe he might truly be turning the corner.
"That was the best I've seen him," Braves hitting coach Greg Walker said. "He was aggressive, he was in attack mode and he stayed inside the ball. That has been his battle. His timing has been messed up, and he's been kind of late all year. There were a couple pitches he was late on last night, but he made the adjustment as the at-bat went on, and he got there on time."
Upton began his encouraging performance with an opposite-field sacrifice fly in the second inning. This was the first of the good signs produced by the veteran center fielder, who has hit .106 (7-for-66) and produced four sacrifice flies with runners in scoring position.
One inning later, Upton encountered some bad luck when he smoked a liner directly at third baseman Ed Lucas. But the line drives he produced in his final two at-bats of the night resulted in a pair of singles.
With what was just his 13th multihit game of the season, Upton improved his Major League-worst batting average from .173 to .178. He entered Tuesday with just three hits in his previous 27 at-bats.
"I've been hitting the ball hard," Upton said. "They are not always going to fall. But I'm starting to see the benefits of the work I've been doing. I'm starting to feel a lot better now. I think in the future, I'll know how to get the feeling back when I lose it."
Mark Bowman is a reporter for MLB.com. This story was not subject to the approval of Major League Baseball or its clubs.