Braves have options in leadoff spot
Braves have options in leadoff spot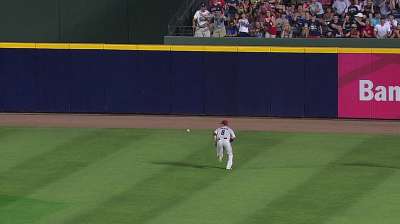 ATLANTA -- Andrelton Simmons was once again at the top of the lineup for Tuesday night's 11-3 win against the Marlins. But with half of the season complete, the Braves have been given reason to explore the option of utilizing somebody else in the leadoff role.
B.J. Upton and Jason Heyward stand as the most likely options to replace Simmons as the club's leadoff hitter. Upton was forced to exit Tuesday's game because of left forearm spasms, but he said he would most likely be ready to play on Wednesday.
After seeing Upton cut down on his strikeouts and get on base much more frequently in June, Braves manager Fredi Gonzalez said he is not opposed to using Upton in the leadoff role.
"I'm not going to say no," Gonzalez said. "If he keeps heading in that direction, sure why not?"
Backup outfielder Jordan Schafer is the only legitimate leadoff hitter on Atlanta's roster. But his path to an everyday role is blocked by the presence of Heyward and the Upton brothers.
Simmons entered Tuesday having hit .218 with a .254 on-base percentage in the 45 games that he had manned the top spot of Atlanta's lineup. His on-base percentage ranked 40th among the 41 Major League players who had compiled at least 100 plate appearances in the leadoff spot.
When Schafer has been in the lineup, he has manned the leadoff spot with Simmons near the bottom of the order. But with Jason Heyward and the Upton brothers filling the outfield spots, there is not an everyday role for Schafer, who has hit .307 with a .409 on-base percentage in the 20 games he has served as the leadoff hitter.
Atlanta's leadoff hitters have combined to hit .243 with a .303 on-base percentage -- both figures rank 26th among all Major League clubs entering Tuesday's game. Without Schafer's contributions, those two averages fall to .225 and .271 -- both of which would rank last in the National League.
B. J. Upton has batted .212 with a .293 on-base percentage in the 13 games he has occupied the leadoff spot. But these opportunities were primarily restricted to the season's first three weeks, long before the veteran outfielder's upswing at the plate in June.
Through the season's first two months, Upton batted .145, compiled a .230 on-base percentage and walked once every 8.58 plate appearances. In June, he hit .238, compiled a .359 on-base percentage and walked once every 6.06 plate appearances. Upton's candidacy for the leadoff role is enhanced by the fact that he minimized his strikeout percentage. After striking out once every 2.86 plate appearances through the end of May, he struck out once every 4.12 plate appearances in June.
Mark Bowman is a reporter for MLB.com. Eric Single is an associate reporter for MLB.com This story was not subject to the approval of Major League Baseball or its clubs.