Gattis out for Marlins series, no return timetable
Gattis out for Marlins series, no return timetable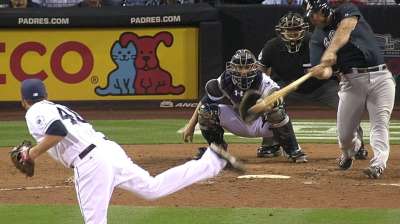 ATLANTA -- The longer Braves catcher Evan Gattis avoids any baseball activities in his ongoing recovery from a right oblique strain, the less likely it becomes that the 26-year-old rookie will see the field again before the All-Star break, which is July 15-18.
Gattis has been dealing with lingering soreness from the injury he sustained while taking a swing in the Braves' June 17 game against the Mets, and on Tuesday afternoon, Atlanta manager Fredi Gonzalez ruled him out for the entire series against the Marlins this week.
"We haven't even talked timetable or anything," Gonzalez said. "We just have to go day by day and see where he's at. I haven't put a timetable on it."
Gattis and Braves trainer Jeff Porter have both expressed optimism, because the soreness has lessened over the current homestand, but until it completely subsides, Gattis will not be cleared to resume swinging and throwing, which in itself is just another step in returning to the lineup.
"I will know he's not going to be ready tomorrow or the next day, because he hasn't even swung the bat yet," Gonzalez said. "When he starts doing that, it's [hitting] off the tee first and then playing catch. It's really small increments before you let him go out and take BP, especially with an oblique. You don't want a twist and then go back to day one."
During Atlanta's sweep of Miami in early April, Gattis went 5-for-12 with two home runs and five RBIs on his way to taking the league by storm and winning back-to-back NL Rookie of the Month honors for April and May.
"You can't afford a setback, for me, with the obliques," Gonzalez said. "So you might as well take your time with it."
Mark Bowman is a reporter for MLB.com. Eric Single is an associate reporter for MLB.com This story was not subject to the approval of Major League Baseball or its clubs.