McCann showing impressive arm after surgery
McCann showing impressive arm after surgery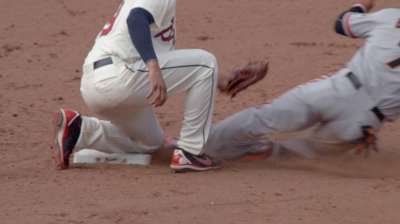 ATLANTA -- Braves manager Fredi Gonzalez has often said the Braves would have put Brian McCann on their active roster to begin this season if they were able to use the designated hitter on a daily basis. In other words, as Spring Training progressed, there were not many concerns about McCann's surgically repaired right shoulder from an offensive perspective.
There were certainly some questions about the arm strength McCann would be able to generate coming off a major shoulder surgery. But as opponents have been successful with just 57 percent of their stolen-base attempts against him this year, the six-time All-Star catcher has exceeded expectations from the defensive end.
"I'm really happy with the way I am throwing because you never know coming off shoulder surgery," McCann said. "You're in the unknown. To be able to throw out runners like I have been lately, I'm very happy."
McCann's throwing ability became a definite concern as opponents were successful with 82 percent of their stolen-base attempts against him during the 2011 and 2012 seasons combined. His career-best performance in this category came in 2010 when opponents were successful with 73 percent of their stolen-base attempts when he was behind the plate.
There is no doubt McCann has benefited from the departure of right-handed pitcher Tommy Hanson, who has one of the game's slowest deliveries. But his success in the throwing department is also a product of the arm strength he has gained much sooner than expected coming off surgery.
"I feel like the ball is coming out as good as it has in a long time, especially coming off labrum surgery," McCann said. "I didn't expect this. But I did a lot of hard work to be able to do this."
Mark Bowman is a reporter for MLB.com. Eric Single is a reporter for MLB.com. This story was not subject to the approval of Major League Baseball or its clubs.