Wood to start in doubleheader vs. Mets
Wood to start in doubleheader vs. Mets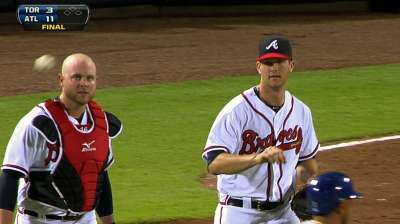 ATLANTA -- Braves manager Fredi Gonzalez confirmed Alex Wood will make his first Major League start during the first game of Tuesday's doubleheader against the Mets at Turner Field. Gonzalez made the announcement after Sunday night's 3-0 win over the Giants.
When approached by reporters, Wood said he had not yet been informed by the coaching staff. But the 22-year-old left-hander said he was looking forward to the chance to match up against the Mets' Matt Harvey.
"That should be pretty fun," Wood said. "I like a challenge."
Wood has tackled many of the challenges that have faced him since the Braves selected him in the second round of the 2012 First-Year Player Draft. He quickly became one of the organization's top prospects and made eight dominant starts for Double-A Mississippi this year before getting his first call to the Majors on May 30 to strengthen Atlanta's bullpen.
Wood has not thrown more than 36 pitches in any of the six relief appearances he has made since coming to the Majors. His most recent start occurred May 25, when he tossed seven innings for Mississippi.
This is not an ideal situation for Wood to make his first career start. But the Braves did not have many other attractive options after learning Friday that right elbow inflammation would prevent Brandon Beachy from making this start. It would have been his first since undergoing Tommy John elbow reconstruction surgery last June 22.
"We'll take it an inning at a time [with Wood]," Gonzalez said. "He's a guy that throws the ball over the plate. It hasn't been that long since his last start -- I think it's been right at three weeks or so -- but we'll play it by ear. I don't want to put a pitch count on it, I don't want to put an inning count on it. Whatever he gives us, he gives us, and then see what we got there."
Not surprisingly, Wood did not seem too concerned about his potential endurance. He was just thrilled to learn he is going to get a chance to start after spending the past couple of weeks acquainting himself to the foreign relief role.
"It's one of those things where you're still throwing," Wood said. "Being in the 'pen is just a different kind of in shape. But at the same time, I've been starting for two months. It's not one of those things where I can go nine. But the pitch count should be where I could still go five or six [innings]."
Gonzalez said the Braves will bring a pitcher up from the Minor League ranks to serve as the 26th player that both teams will be permitted to use during the doubleheader. This pitcher would provide some insurance in the event that Wood compiles a high pitch count that forces him to make an early exit.
Wood had a 1.26 ERA in 10 starts for Mississippi before getting his first call to the Majors at the end of May. He has allowed three earned runs and five hits in 7 2/3 innings since joining Atlanta's bullpen.
Mark Bowman is a reporter for MLB.com. Eric Single is a reporter for MLB.com. This story was not subject to the approval of Major League Baseball or its clubs.