Varvaro gets a taste of one-out relief work
Varvaro gets a taste of one-out relief work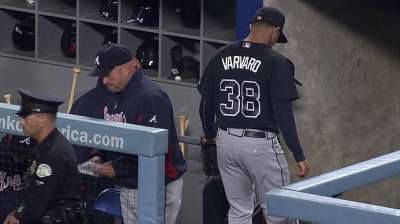 ATLANTA -- Anthony Varvaro was getting used to having an entire inning to himself, and his relief appearance in the 10th inning with the score tied last Friday against the Dodgers was supposed to be no different. Varvaro had lasted at least a full inning in nine of his prior 10 appearances, allowing just two earned runs over that span.
Varvaro's inning did not go as planned: He gave up two singles and threw a wild pitch with runners on the corners that allowed the game-winning run to come across in the Braves' 2-1 loss. Since then, the Braves righty has made a pair of entrances in the middle of an inning and closed out the frame without incident, the most recent member of the Atlanta bullpen to undergo a minor role change and adjust on the fly.
"I don't really think that there are [established bullpen roles] besides obviously Craig [Kimbrel] and you know we're going to [Jordan] Walden late right before him," Varvaro said. "I think [Braves manager Fredi Gonzalez] has been playing matchup for the most part, just kind of what he feels at that moment may be best."
The day after he was tagged with his first loss of the season, Varvaro came on for Kris Medlen with two outs in the seventh and induced an inning-ending groundout. On Tuesday in San Diego, Varvaro struck out Kyle Blanks with runners on second and third to help the Braves escape the eighth trailing by just one run. Those one-out assignments provide different challenges than the task of managing an entire inning and with that comes a slight change in approach, according to Varvaro.
"Normally if you're coming in for a batter, there's someone in scoring position, so you're looking for a punchout," he said. "You're not necessarily coming in and saying 'OK, I'm kind of just trying to get ahead and pitch to contact a little bit.'"
As the Braves move farther away from last Friday's extra-innings loss and the rest of their rocky West Coast road trip, Varvaro is staying consistent with his mentality in the hope that each successive appearance out of the bullpen, no matter the length, will help build his reputation as one of the club's more flexible bullpen pieces.
"When I'm coming in earlier in the game and it's a clean inning and it looks like I may have an inning or two, I'm still trying to be pretty aggressive," Varvaro said. "If I give up a hit, it's not the end of the world, whereas it may be on that one batter."
Eric Single is an associate reporter for MLB.com. This story was not subject to the approval of Major League Baseball or its clubs.