Johnson, Gattis getting regular playing time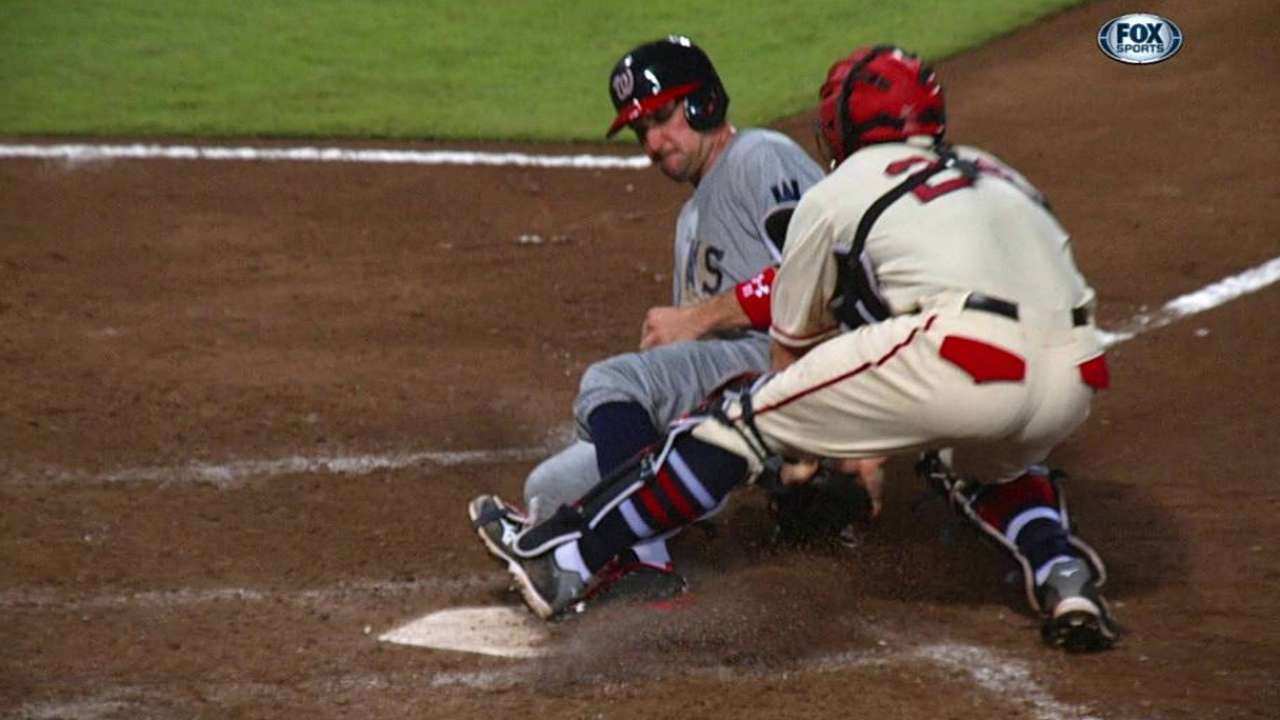 ATLANTA -- Shuffled in and out of the starting lineup in concert with the Braves' roster moves throughout May, Evan Gattis and Chris Johnson have seen their names on the lineup card with more frequency in the past week.
Playing left field on Sunday, Gattis has now started eight of the team's last 11 games, his longest stretch of consistent playing time since Brian McCann's return. Meanwhile, Johnson started a third consecutive game for the first time since late April in Saturday night's win over Washington.
Johnson started off his first season in Atlanta on a tear, leading the National League in batting average at various points in mid-April, but he would typically yield the hot corner to Juan Francisco when the Braves faced a right-handed starter. As Johnson came on strong in the second half of May after an early 0-for-17 slump to start the month, manager Fredi Gonzalez indicated Johnson would begin to see more playing time against righties within a "soft platoon" that gave the slumping Francisco a break.
When Francisco was designated for assignment on Thursday, Johnson moved closer to taking over the everyday third baseman role he has worked to prove he can handle in his first two months in Atlanta.
"It's always good, in every aspect of the game, to play every day, just because you can work on things and get your timing better both on offense and defense," Johnson said. "It's a big plus."
McCann's May 6 return to the lineup after offseason shoulder surgery sent Gattis into limbo after he had handled the majority of the catching duties in the first month of the season. Gattis got a handful of starts in left field in early May, but it was his pinch-hit heroics in the following weeks that all but forced Gonzalez to get him back into the everyday lineup in some way.
"I was having success with the pinch-hit thing, but it was definitely good to get a couple of at-bats against the same guy and all that," Gattis said. "It's good to have a game plan."
A more regular place in the starting lineup has meant more positional shuffling for the Braves' 26-year-old rookie. But Gattis understands that with the Braves' pair of veteran catchers in McCann and Gerald Laird, he'll have the chance to get acclimated in left field while he waits for his turns behind the plate. Describing his adjustment to big league outfields as a "learning experience," Gattis said he frequently practices with Reed Johnson to learn what he can from the veteran about roaming the outfield.
"Different places are different, different grass, different everything, how fast the ball's going and stuff like that," Gattis said. "In Arizona, they got that cut-out in left field, where if the ball hits in there perfect, it's going to stop, and if it doesn't, it's going to shoot out."
The pair rewarded Gonzalez's confidence with a big defensive play in Saturday night's win, linking up for a critical putout at home in the ninth inning to help Craig Kimbrel out of a jam.
Eric Single is an associate reporter for MLB.com. This story was not subject to the approval of Major League Baseball or its clubs.