Braves' bench players making most of chances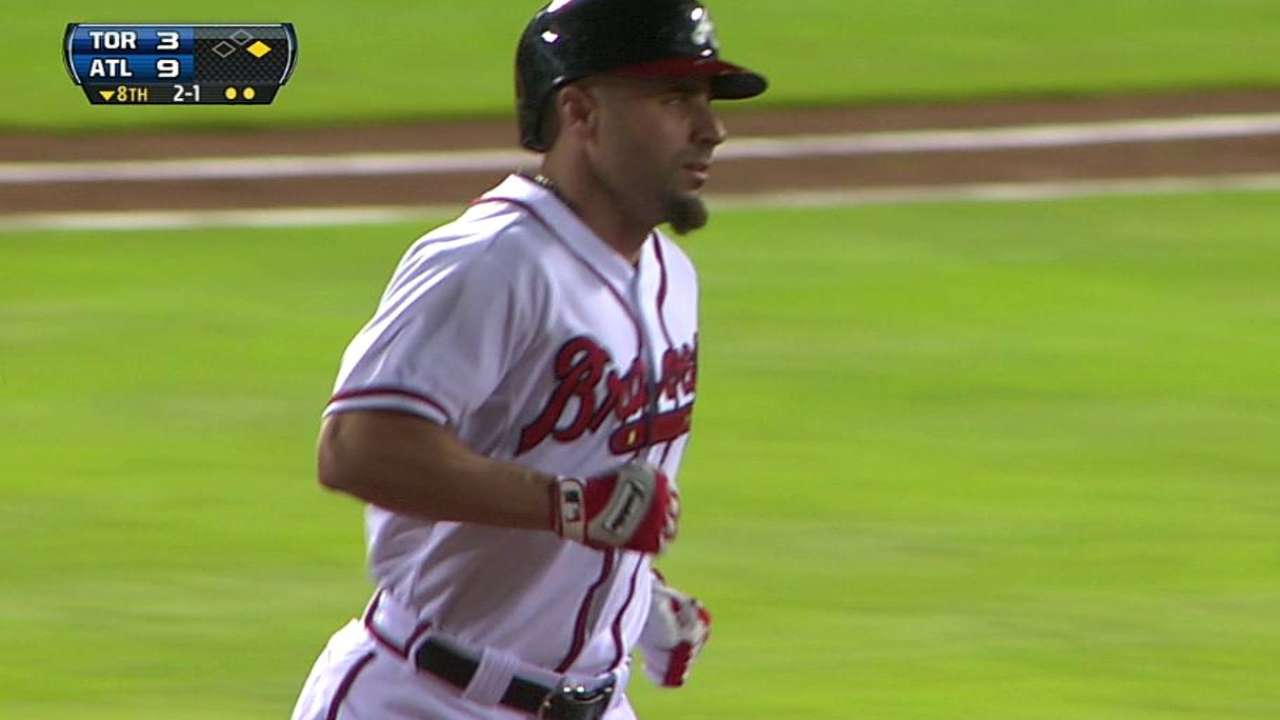 ATLANTA -- In the late innings of Saturday night's win over Washington, it just happened to be Reed Johnson and Jordan Schafer. But the entire Braves bench has taken full advantage of their opportunities to contribute in big spots.
After launching a pinch-hit two-run home run in the eighth inning of Thursday's win over Toronto, Johnson came on in Saturday's ninth for Jason Heyward, whose three strikeouts on Saturday night drew the ire of the lively Turner Field crowd. Johnson led off the bottom of the ninth with a single to center field off reliever Fernando Abad, a matchup tailor-made for his 11 years of big league experience.
"I just so happened to be facing a lefty leading off an inning," Johnson said. "I've been a leadoff hitter my whole career, I've hit lefties pretty well my whole career, so in that sense, [manager] Fredi [Gonzalez] saw it as a good matchup for me, and it ended up working out."
Then in the top of the 10th inning, Johnson came on hard from his post in right field to haul in a line drive off the bat of Nationals pinch-hitter Chad Tracy, helping reliever Jordan Walden to a perfect inning. In the bottom half of the inning, Schafer came on as a pinch-runner and , after stealing a base to get into scoring position, scored the game-winning run from second on B.J. Upton's single to shallow right field.
"I feel like we just feed off each other," Johnson said. "When [Ramiro Pena] gets a hit, or when I get a hit, I look back in the dugout, and you can see how happy those guys are, because we know how tough it is to be not playing on an everyday basis and get those sporadic at-bats or sporadic starts."
Regarded as a reliable, versatile outfielder throughout his time with the Blue Jays, Cubs and Dodgers before arriving in Atlanta in 2012, Johnson expressed a sense of fraternity with the man he denied a base hit on Saturday, a fellow well-traveled bench player in his own right.
"You have a relationship with Chad Tracy, guys like that across the way that don't play every day, and we understand how difficult that is in that situation," Johnson said. "So everybody throughout the league, and especially within your own team, those bench guys really pull for each other."
Eric Single is an associate reporter for MLB.com. This story was not subject to the approval of Major League Baseball or its clubs.