MLB.com Columnist
Terence Moore
Pioneers find worthy cause at Heritage Weekend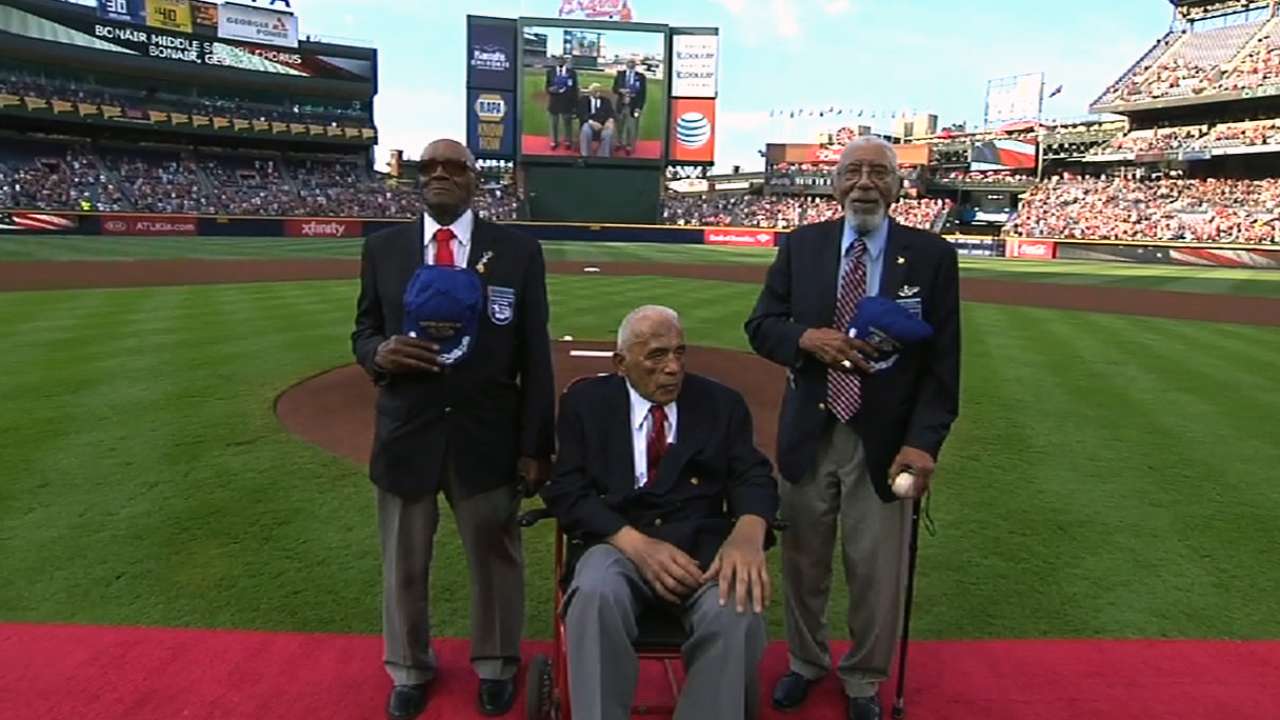 ATLANTA -- By now, everybody knows the plight of African-Americans in baseball when it comes to the numbers. Not good. They've been on the decline for decades, but they've risen steadily and dramatically in basketball and football.
Does it matter?
I mean, does it really matter?
Despite the increasing lack of African-Americans on the field and in the stands, Major League attendance has soared this century. Plus, according to Forbes magazine, the game is so profitable that the overall value of its franchises rose by 23 percent last season. Not only that, Forbes said the New York Yankees slipped past the Dallas Cowboys as the most valuable team in pro sports.
So why should baseball continue its ongoing efforts -- as a whole and through individual teams -- in search of trying to find ways to enhance the legacy of Jackie Robinson?
"Because this is embarrassing," Hank Aaron said on Friday, shaking his head, while standing across a room at Turner Field named for his famous home run total. It's called the 755 Club, and a packed house gathered there on this day for a luncheon and a panel discussion to open the Braves' inaugural Heritage Weekend.
Braves officials said they were inspired to create the event after hosting the two previous Civil Rights Game weekends.
At Friday's luncheon, former United Nations Ambassador Andrew Young and former Georgia state Sen. Leroy Johnson became the first winners of the Hank Aaron Champion for Justice Award, and it was presented to both African-American historical figures by the man himself. Former Tuskegee Airman Val Archer and 1968 Olympic gold medalist Tommie Smith were among the panelists who offered various thoughts on the civil and human impact of sports on society.
There also was an exhibit on the Tuskegee Airmen slated to run at Turner Field through most of Friday night's game between the Braves and the Washington Nationals.
There was a Negro Leagues exhibit, too.
Then on Saturday, the Braves are scheduled to host a clinic run by former Braves players for 150 youth. Negro Leagues players will be available for interviews before the game, and the Braves will join the Nationals in wearing special Negro Leagues uniforms for the occasion. After the game, there will be a concert with Run DMC.
The point is, the Braves are trying to do different things to help increase African-American interest in the sport. So is baseball, with its Reviving Baseball in Inner Cities (RBI) programs and academies that they wish to build in more inner cities across the country, but there is the meantime.
"We can have some consolation in the fact that, despite the declining numbers, many of the current African-American players are real stars," said Archer, referring to those around the Major Leagues such as Justin Upton, Brandon Phillips, Torii Hunter and Prince Fielder. "But we still have incredible talent out there that is not being used, and we could do more to look for that talent on our own shores."
Aaron agreed.
Then the Braves slugging icon turned Braves executive continued with his analysis of the situation by adding, "It's not a matter of what color you are or whether we're talking about Latin players or whatever. It's about how Jackie Robinson fought a courageous battle during his time to put baseball at another level. And now, when you go out to baseball parks, I think it's something like three percent. That's about the number of blacks in total you'll find in the stands.
"It's kind of embarrassing, because you feel like myself and Willie [Mays] and Jackie and all the rest of the former black players did the kind of job that would make you think we'd be better off than this."
No question there. Just take it from Johnson, the first African-American state senator for Georgia since the period of Reconstruction. He was a prominent lawyer whose clients included celebrities such as James Brown and Otis Redding. Then he led the way for Muhammad Ali's return to boxing in Atlanta after the heavyweight champion of the world suffered more than a three-year exile for his refusal to join the armed forces.
Johnson also was instrumental in the Braves' move from Milwaukee to Atlanta before the 1966 season by helping them get a brand-new Atlanta-Fulton County Stadium at the time.
"Actually, when the Braves were even talking about coming here, I sent a letter to Hank Aaron and welcomed him to the South," said Johnson, before heading to the podium for the luncheon. "At that time, you had a bunch of blacks in baseball. So the fact that it has dwindled to where it is now is something I have not been able to understand."
The same goes for Young, who grew up playing and coaching baseball in New Orleans years before he evolved into one of Dr. Martin Luther King Jr.'s top lieutenants along the way to becoming a U.S. congressman from Georgia, Atlanta mayor and United Nationals Ambassador.
"My daddy worked his way through dental school by playing baseball in the country fields of Louisiana," said Young, while standing a few feet from Aaron, a longtime acquaintance. "And when I was preaching in south Georgia, that's where the Braves' training camp was, and the church was two blocks away. I had three baseball teams at the church. I'd round up the kids, pack them in the station wagon, and we'd play around in little towns, and we mostly were playing against men's teams.
"They say kids can't afford bats and gloves now, but we couldn't afford them back then. We might have a glove for the catcher and a glove for the first baseman, and that would be about it."
Young chuckled.
Across the way from Young and Aaron, there was Jasmine Guy, known as Whitley Gilbert to fans of the old TV sitcom "A Different World." She attended the luncheon as a spectator. She grew up in Atlanta through her teenage years, and she rooted for those Braves teams of the 1970s with African-Americans ranging from Aaron to Dusty Baker to Ralph Garr to Sonny Jackson to Earl Williams.
Guy told me, "As a fan back then, I never realized such a shift away from African-American players would happen. But I've heard Hank Aaron explain in the past that it is an expensive sport. Basketball courts are accessible, so kids are able to grow into pro players.
"What baseball needs is more corporate sponsorships to help out. Big dollars. But African-Americans aren't going away in baseball. It will have another wave, another evolution."
That's the hope.
Terence Moore is a columnist for MLB.com. This story was not subject to the approval of Major League Baseball or its clubs.