Medlen exits early after getting hit by liner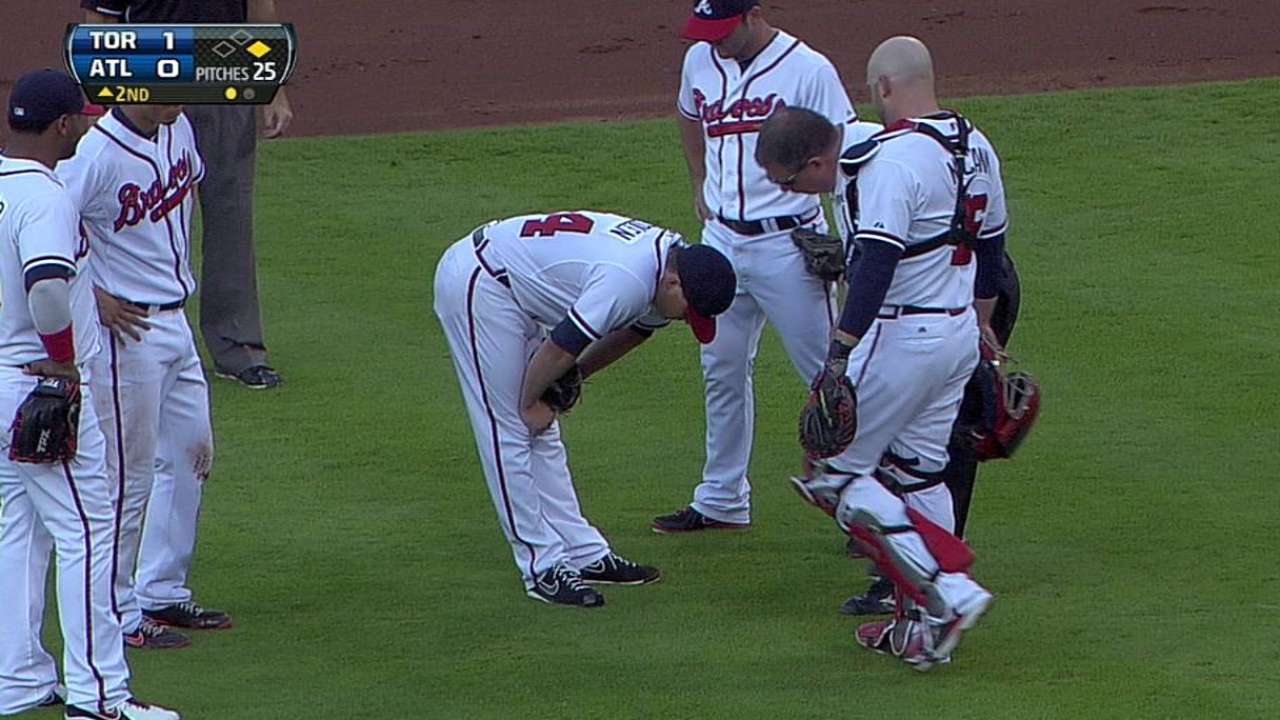 ATLANTA -- Braves starter Kris Medlen exited Wednesday night's 3-0 loss to Toronto with an upper left calf contusion, but he is expected to make his next start.
Medlen was hit in the back of the left leg by a comebacker off the bat of Emilio Bonifacio in the second inning. He issued a four-pitch walk to the next batter he faced and surrendered Melky Cabrera's two-run single before retiring the side.
"It's a leg thing, and the more you use it, the worse it's going to get," Gonzalez said. "So hopefully, five days from now, I think he should be able to make a start, and we'll go from there."
"I've been hit by a lot of balls in my life, just playing short and whatever else, and that's probably one of the harder ones that I've felt," Medlen said. "I think I knew right away, but I just wanted to at least get through the inning."
The Braves brought right-hander David Carpenter out of the bullpen to replace Medlen before the start of the third inning. Carpenter teamed with relievers Anthony Varvaro, Jordan Walden and Cory Gearrin to hold the Blue Jays scoreless over the final seven innings.
"I know how tough it is for our bullpen to have to do something like they did today," Medlen said. "They picked me up big time. I was the worst pitcher out there today."
Before exiting, Medlen threw 38 pitches, allowing three earned runs on four hits on the way to his sixth loss of the season. This was the shortest start of Medlen's career.
"He tried to stay in there, and when you get hit in the muscle that high up, you start stiffening up a little bit," Braves manager Fredi Gonzalez said. "There was no sense running him out there any longer than that."
Mark Bowman is a reporter for MLB.com. Eric Single is an associate reporter for MLB.com. This story was not subject to the approval of Major League Baseball or its clubs.