Salazar pick sets tone for Braves on Day 2
Salazar pick sets tone for Braves on Day 2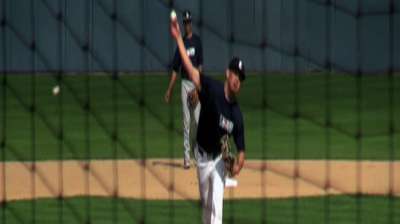 The Braves started Day 2 of the 2013 First-Year Player Draft with the selection of right-handed pitcher Carlos Salazar in the third round and held to a few common themes on Friday: power pitchers, depth up the middle of the diamond, and players likely to sign professional contracts.
Salazar, a California high school product, set the tone for Friday's round of selections, as Braves scouting director Tony DeMacio did not hesitate to spend four of the team's first 10 picks on right-handed pitchers with the potential to make noise in the organization.
"You're always going to need pitching," DeMacio said. "We're looking for power arms, that's what we're looking for when we take pitching. I think when you draft through the middle, that's good. You gotta be strong through the middle."
Though committed to Fresno State in his own backyard, Salazar gained plenty of big league Draft interest following an early showing at the Major League Scouting Bureau's SoCal Showcase.
The physical right-hander out of Kerman High School has a ton of arm strength, touching 97 mph with his fastball fairly consistently. His sharp breaking ball has the potential to become a plus pitch, and he even shows some feel for a deceptive changeup.
"Good high school arm, power arm," DeMacio said. "Mid-90s or a little better sometimes, with a really good breaking ball. We were very happy to get him."
While Salazar has struggled with control, his command has been improved and he's generally around the strike zone.
A longtime Bulldogs fan, there's a chance he'll never set foot on the Fresno State campus, with an opportunity to instead start his pro career following his selection with the 102nd overall pick in the Draft.
"The kids we took wanted to go out and sign, and that's important," DeMacio said. "So that worked out good both ways for us."
Due to the rules governing what teams can spend, the Braves took high school prospects they felt confident they would be able to sign.
"We took I think five high school guys today, which is good," DeMacio said. "The new Draft rules enable you to move some money around where you can actually take more high school guys, so that's worked out."
Day 3 of the Draft continues with Rounds 11-40 streamed live on MLB.com on Saturday, starting at 1 p.m. ET.
MLB.com's coverage includes Draft Central, the Top 100 Draft Prospects list and Draft Tracker, a live interactive application that includes a searchable database of Draft-eligible players. You can also keep up to date by following @MLBDraft on Twitter. And get into the Draft conversation by tagging your tweets with #mlbdraft.
Eric Single is an associate reporter for MLB.com. This story was not subject to the approval of Major League Baseball or its clubs.