Grueling stretch may prompt seven-man bullpen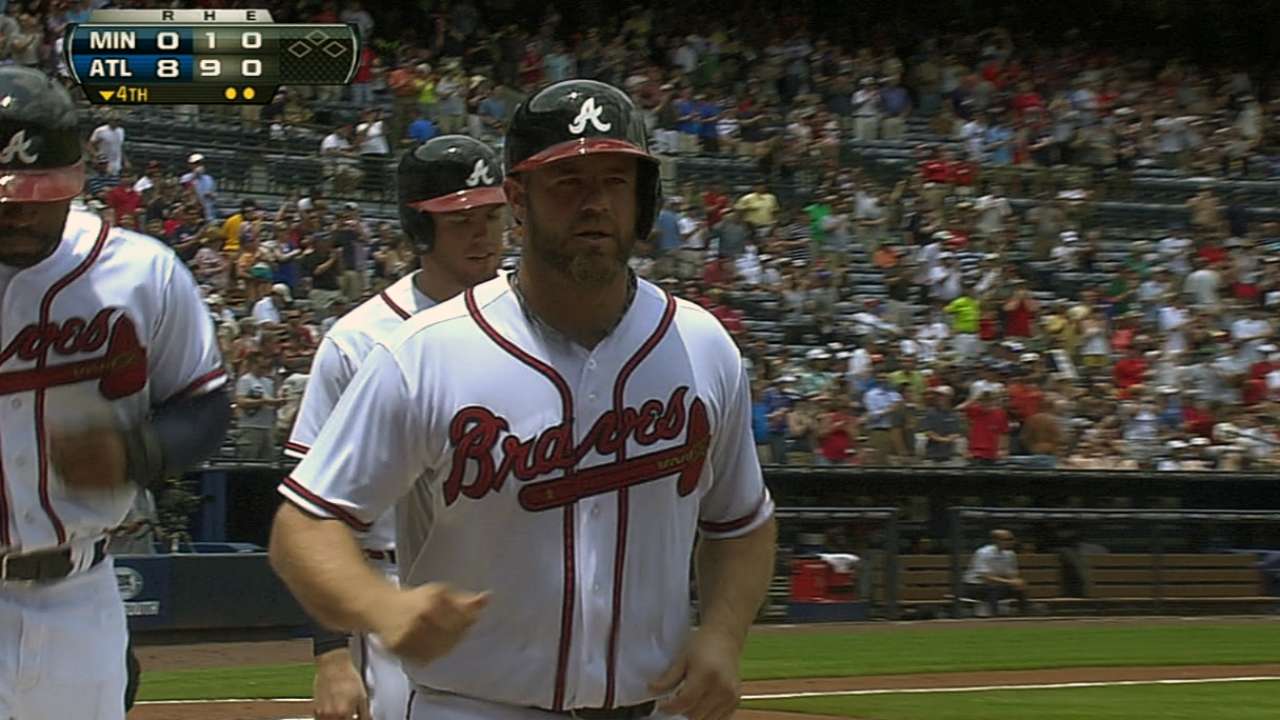 NEW YORK -- When the Braves opened a three-game series against the Mets on Friday night, they began a stretch in which they are scheduled to play on 20 consecutive days. This arrangement has led manager Fredi Gonzalez to believe he might need to go back to a seven-man bullpen soon.
The Braves utilized a six-man bullpen while proving perfect during the six-game homestand that concluded on Wednesday. Gonzalez said he wants to continue using this arrangement through at least Tuesday, when the Braves conclude a two-game series against the Blue Jays in Toronto.
While in Toronto, the Braves will have the luxury of using a designated hitter. This will allow Gonzalez to put Evan Gattis in his lineup for both games. Brian McCann or Gattis will serve as the DH when the other is catching during this two-day stretch in the American League city.
If the Braves go back to a seven-man bullpen, they will have a tough roster decision. Because Jordan Schafer and Ramiro Pena are both out of Minor League options, they certainly will not be taken off the 25-man roster.
Other options that have been speculated include attempting to trade Gerald Laird or Reed Johnson. But the Braves are well aware of the value Laird and Johnson bring as strong veteran presences on their bench and in the clubhouse.
There was a time when the Braves at least had to consider sending Gattis to Triple-A Gwinnett to catch on a daily basis. But while hitting three more home runs, including two game-winners, during the recent homestand, Gattis likely solidified his spot on Atlanta's roster.
"Before he gets sent down, I'll go down," Gonzalez said.
Mark Bowman is a reporter for MLB.com. This story was not subject to the approval of Major League Baseball or its clubs.