'Suffer' shirts fit Braves to a tee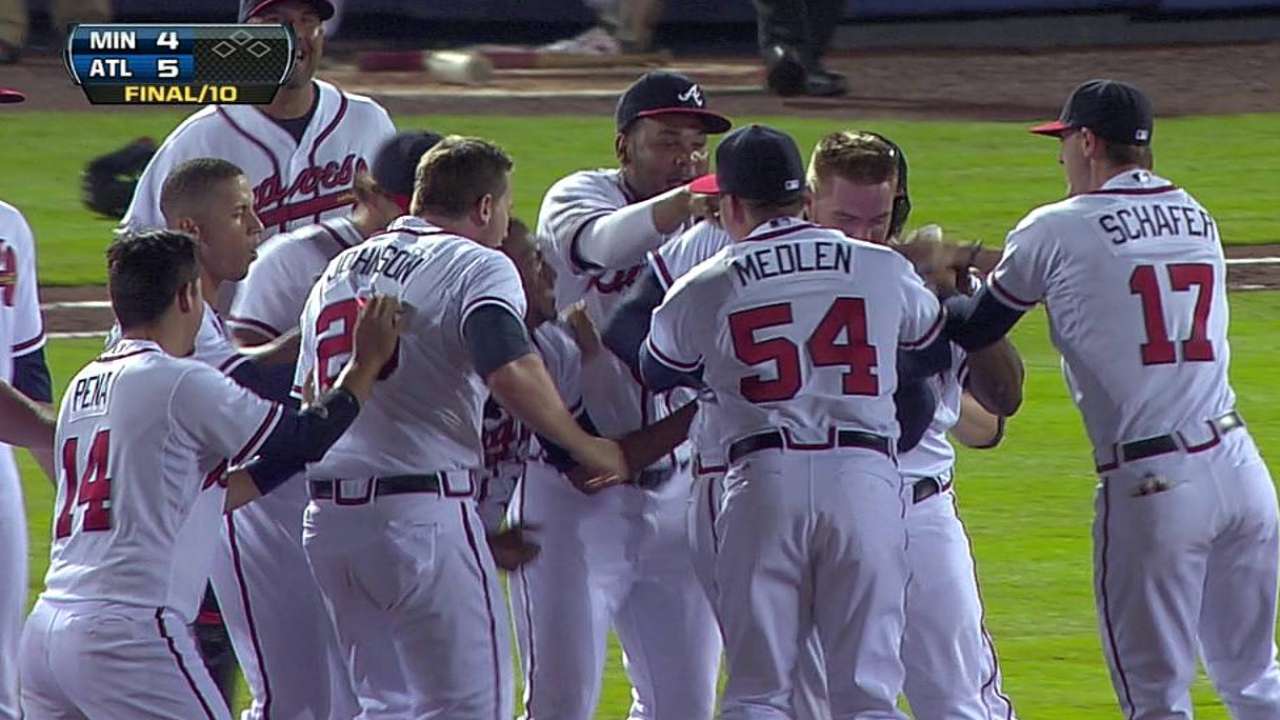 ATLANTA -- The grind of a 162-game season and all that entails is sure to wear on a baseball team.
The Atlanta Braves, known for not wearing their emotions on their sleeves, have found a solution. They're wearing their collective mindset on their chests, donning blue T-shirts with the slogan "Suffer In Silence."
Veteran center fielder Reed Johnson, who has seen plenty of adversity in his nine-plus years in the Major Leagues, came up with the idea for the shirts, which also include an animated face wearing a Braves cap with white tape over the mouth (a space for players to write in their number).
The phrase has become a rallying cry of sorts for the Braves as they endure the inevitable bumps and obstacles in their path that accompany them during the journey that is the regular season.
"There are 25 guys in here going through a lot of the same issues, whether it's aches and pains or things they might not agree with -- whether they think they should be playing more, playing less, or whatever," said Johnson. "If you express those problems out loud, a lot of times, that's really what can tear a team apart. So with things that really don't matter and are not going to affect you on the field as far as wins and losses are concerned, that's where the suffer in silence comes from."
Johnson handed out the shirts at the end of Spring Training, but did so in a unique way, so as to drive the point home.
"I gave everybody a shirt and gave every single person I gave a shirt to an individual speech," he said. "I didn't do it as a group. I kind of presented it to everybody one at a time."
The shirt has become a pregame favorite around the clubhouse. Part of that is the comfortable material from which the shirt is made, some of it also can be attributed to the message it carries.
That message is apropos for a team that has played the fewest home games in the National League, made back-to-back 10-day, three-city road trips separated by a night-day mini-series, played games in sub-freezing weather, saw two of its top relievers go down for the year in a week and has battled back from behind to win in four of the five victories on the current homestand, The latest was the dramatic 5-4, 10-inning win Tuesday night.
"Ain't no time for excuses," said catcher Gerald Laird, prior to Wednesday's finale with Minnesota. "That's why we wear this shirt. You've got to suffer in silence.
"We're all big leaguers. When it's your time to play you have to prepare and be ready to go in there and do the job. It is always the sign of a good baseball team when you have different guys every night stepping up and getting the big hit or just doing something in the field, making a play to help the team win. I like what I see with the team. It's every guy on the roster contributing right now. That's a good sign."
Not even an early day game following a rain delay and extra innings the night before can get Johnson down.
"You're asking the wrong guy," he said, with a laugh. "I played at Wrigley for four years. So I'm used to the day games. I think we had, I think, 12:00 or 12:30 starts every Saturday. So you get pretty used to those when you're playing there. I guess I'm a little more acclimated to the day games than most of the guys around here, but I'm sure that most of the guys in here don't really care for them."
Not that you'll hear anyone complaining.
Jon Cooper is a contributor to and Eric Single is an associate reporter for MLB.com. This story was not subject to the approval of Major League Baseball or its clubs.