Braves getting used to late-inning heroics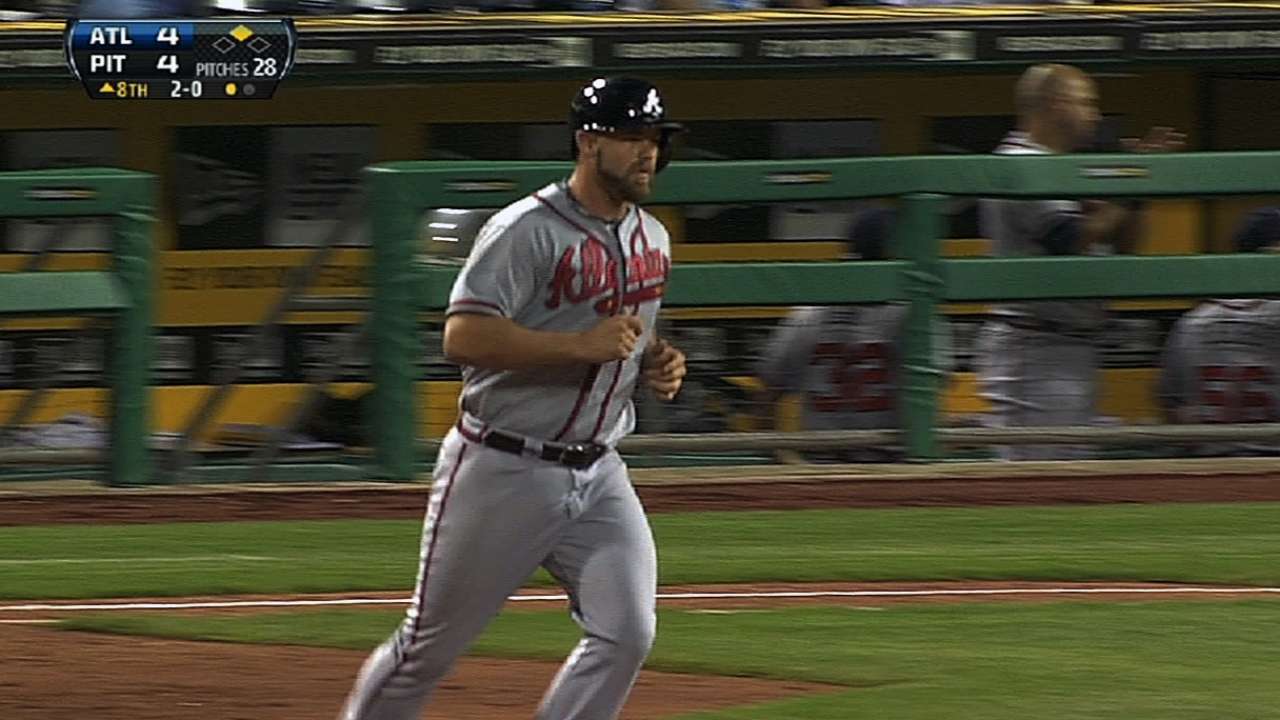 ATLANTA -- Just before rookie Evan Gattis sent a game-tying homer off into the left-field stands with two outs in the ninth inning on Tuesday night, Freddie Freeman got a taste of the excited anticipation many Braves fans have become very familiar with over the first quarter of the 2013 season.
"It's almost like when I saw him walk up there, I knew we were going to be going a little bit longer tonight," Freeman said after Tuesday's 5-4, 10-inning win over the Twins. "Once he squats down in that box, it's almost like you know it's going to happen."
Whether it's been Gattis or any number of other weapons, the Braves have hit upon a winning recipe for navigating late-game adversity in the first two months of the season.
"We've grinded," catcher Gerald Laird said. "To be where we're at right now with the schedule we've had, it says something about our team. We've been on the road a lot, two long road trips already. We grinded it out and had some rough moments. We bent but didn't break. It's one of those things, we kind of rode it out, got back home and have gotten on a nice little streak here."
Tuesday night's 5-4 win over Minnesota marked the fourth time this season the Braves have won after trailing in the eighth inning. In the National League, only the Pirates had accomplished that feat more often.
Maybe the most impressive part of the Braves' late-inning heroics is that they can come from anywhere. Gattis has grabbed the spotlight and grown his legend on the team's current homestand with a pair of pivotal home runs, but on April 12, it was ninth-inning substitute Ramiro Pena, whose homer in the 10th capped an improbable 6-4 comeback win over the Nationals.
"Especially when we're down by one or two -- three maybe -- we're confident that we can come back," Pena said. "[Tuesday] night, it was one run, so we tried to do our job, tried to get good ABs and come back and win the game."
Jason Heyward compared the team's recent propensity for late-inning rallies to his rookie season in 2010, when the Braves had 46 comeback wins -- including seven in which they trailed in the ninth inning -- on their way to a 91-71 record and the NL Wild Card. After coming from behind three days in a row to sweep the Dodgers and pulling off Tuesday night's thriller, the Braves sit at 14 comeback wins, just about on pace to duplicate '10's high-water mark.
"[The] 2010 season, we had quite a few of those playing at home," Heyward said. "We had a pretty good record that year, and it just seemed like someone different was doing something special for us. If you give yourself an opportunity late in the game and win those last three innings, you have a good chance to win the game."
The expectation that someone will step up late is contagious, and for the Braves, the knowledge of each past comeback can make future late-game deficits that much less daunting.
"You try and keep it close, try and chip away at a team if they've got an early lead on you, and hopefully you take advantage of the last at-bat at home," Heyward said.
-- Eric Single
Jon Cooper is a contributor to and Eric Single is an associate reporter for MLB.com. This story was not subject to the approval of Major League Baseball or its clubs.