Injuries haven't slowed dominance of bullpen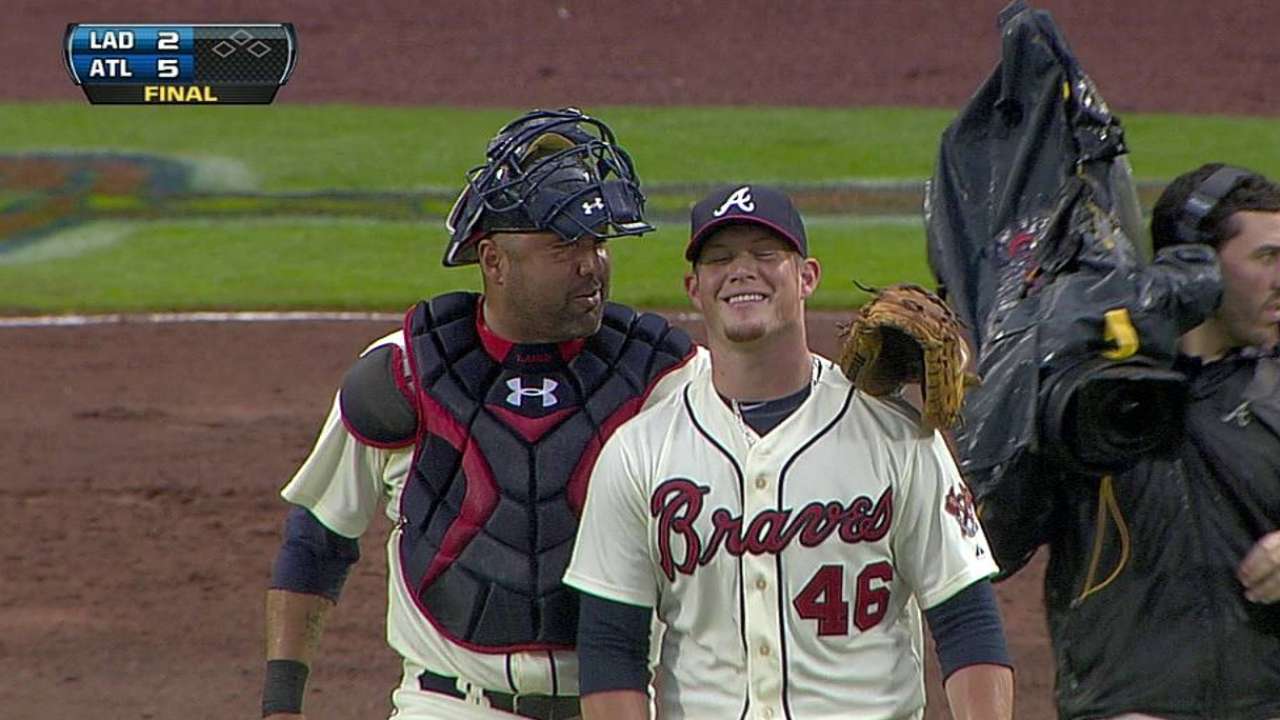 ATLANTA -- One of the biggest differences between a title-contender and would-be title-contender is the ability to keep things running smoothly when the seas get choppy as they inevitably will.
For example, take away most teams' top three setup men, and they might hear calls of, 'Why us?' while their general manager tried feverishly - and likely futilely - to find new arms to fill in.
That plan simply won't fly in Atlanta.
So when the Braves saw their tandem of elite lefty setup men -- Eric O'Flaherty and Jonny Venters -- lost for the season to elbow injuries that require Tommy John surgery, while also dealing with the loss of hard-throwing righty Jordan Walden, they simply swallowed hard, then called in reinforcements in right-handed sidewinder Cory Gearrin, lefty Luis Avilan and righty Anthony Varvaro.
So far they've been doing their job: On the current homestand, closer Craig Kimbrel has a win and three saves.
"We're just going out there trying to win ballgames -- whatever that looks like," said Gearrin, who has been scored upon once in 25 appearances covering 20 2/3 innings and has allowed only two hits in three appearances covering two innings on the homestand, with a win and a save (he suffered a blown save Tuesday night, allowing two hits). "If it's one guy throwing in the seventh or a couple of guys splitting up the eighth, whatever we have to do to win a game, get the ball to [closer] Craig [Kimbrel], that's what we're going out there doing.
"Obviously, it's a tough break with 'O' and Jonny going down, but we're going to go out there and keep trying to win games. We're going to go out there and have fun and see what we can do."
Avilan has been just as tough as Gearrin. He allowed two runs Tuesday night, but that marked the first time in eight appearances covering seven innings that he'd been scored upon.
"It's tough news about Jonny and O'Flaherty, two of our best pitchers in the bullpen, but we have to do our job," Avilan said. "It doesn't matter what our role is going to be. Try to stay focused, try to throw strikes and that's it. Make quality pitches and get guys out. It's going to be more work for us, and we probably have to pitch almost every day, but we're going to keep working and help the team and win."
The trio, as well as young relievers David Carpenter and Cory Rasmus, is mentally tough and ready to go every day. That means, literally every day, if necessary.
"We're always hungry out there," said Varvaro, who threw two scoreless frames Tuesday night and hasn't allowed a run in his last five appearances, covering 5 1/3 innings. "Whenever that bullpen phone rings, we're all ready, eager to see who's going in. Everybody out there, we just want to get out there, we want to get on the mound, we want the ball."
The Braves' bullpen entered Wednesday's matinee with a Major League-leading 2.68 ERA, a .224 opponents' batting average (sixth in the Majors) and only nine home runs allowed (fifth in the Majors, third in the NL). Those are high standards and a challenge the 'pen is willing and able to uphold.
"This is something special to be a part of," said Gearrin. "This is a good team, a team that's going to win a lot of games. You want to be as big a part of that as you can. It's something you can kind of sense in our group. When we go out and play every day and guys expect to win and you want to be a part of that."
Jon Cooper is a contributor to and Eric Single is an associate reporter for MLB.com. This story was not subject to the approval of Major League Baseball or its clubs.