McCann quickly regaining timing at the plate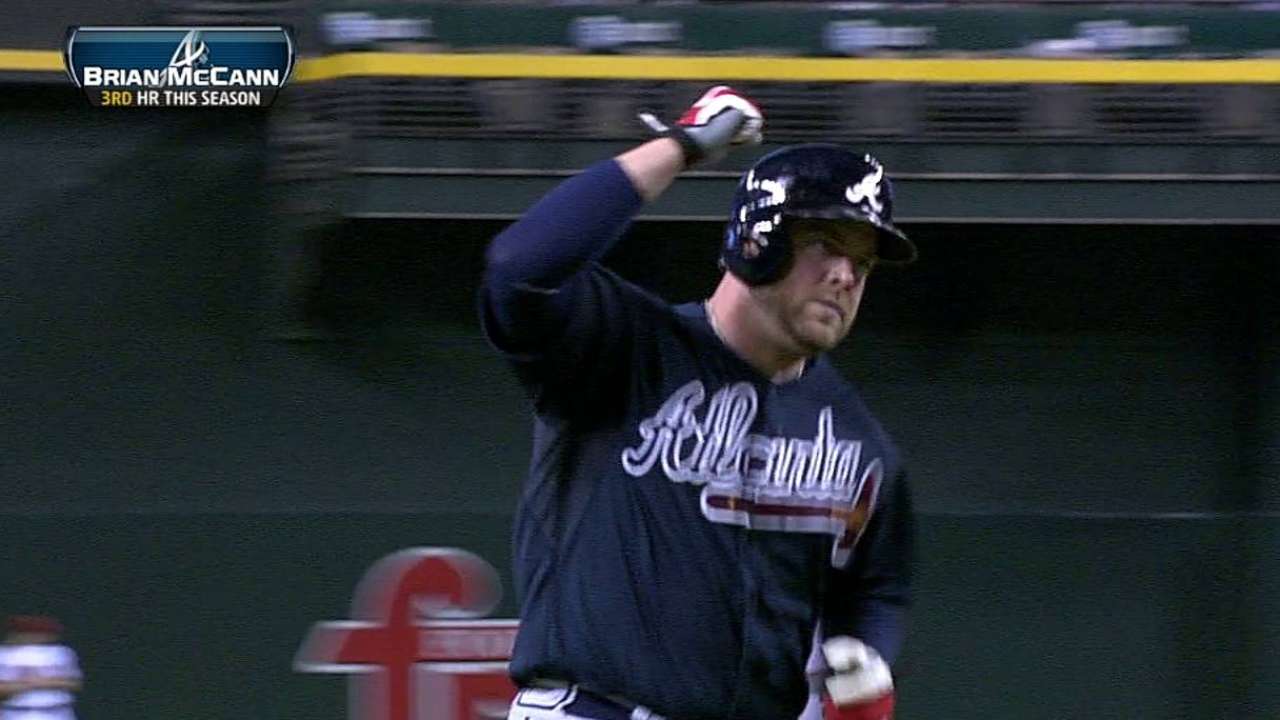 PHOENIX -- Brian McCann's right shoulder should continue to get stronger as he moves further away from the surgical procedure he underwent in October. But the veteran Braves catcher already has made a good impression during his first week back at the Major League level.
Since recording one hit in his first eight at-bats after being activated from the disabled list, McCann has looked much like he did while winning five Silver Slugger Awards. The 29-year-old catcher entered Tuesday with six hits, including three home runs, in his past 13 at-bats.
"I think this is as good as I've seen him in a while," Braves pitcher Tim Hudson said. "This is the guy that I remember from before he got hurt, the way he's swinging it and the way he's throwing it. His throwing is still a work in progress with the shoulder. But he's definitely feeling comfortable at the plate."
Despite the fact he will likely not regain his normal arm strength before the 2014 season, McCann has thrown out two of the four opponents who have attempted to steal a base against him this year. This is certainly encouraging given the fact that he threw out just 17.8 percent of the opponents that attempted to steal against him the past two seasons.
This is essentially the first time McCann has been at full strength since straining his left oblique on July 26, 2011. He looked uncomfortable the remainder of that season and battled right shoulder discomfort through much of last season.
"He's healthy and feels good about himself," manager Fredi Gonzalez said. "I think we are bringing him around the right way."
Sticking to a schedule that has not allowed him to catch more than two consecutive games since he returned last week, McCann rested during Tuesday night's game against the D-backs. But Gonzalez said McCann might catch each of the three games during this weekend's series against the Dodgers.
"He's getting to that age where you have to keep an eye on him," Gonzalez said. "You don't want to wear him out."
Mark Bowman is a reporter for MLB.com. This story was not subject to the approval of Major League Baseball or its clubs.