Prado happy trade has worked out for Braves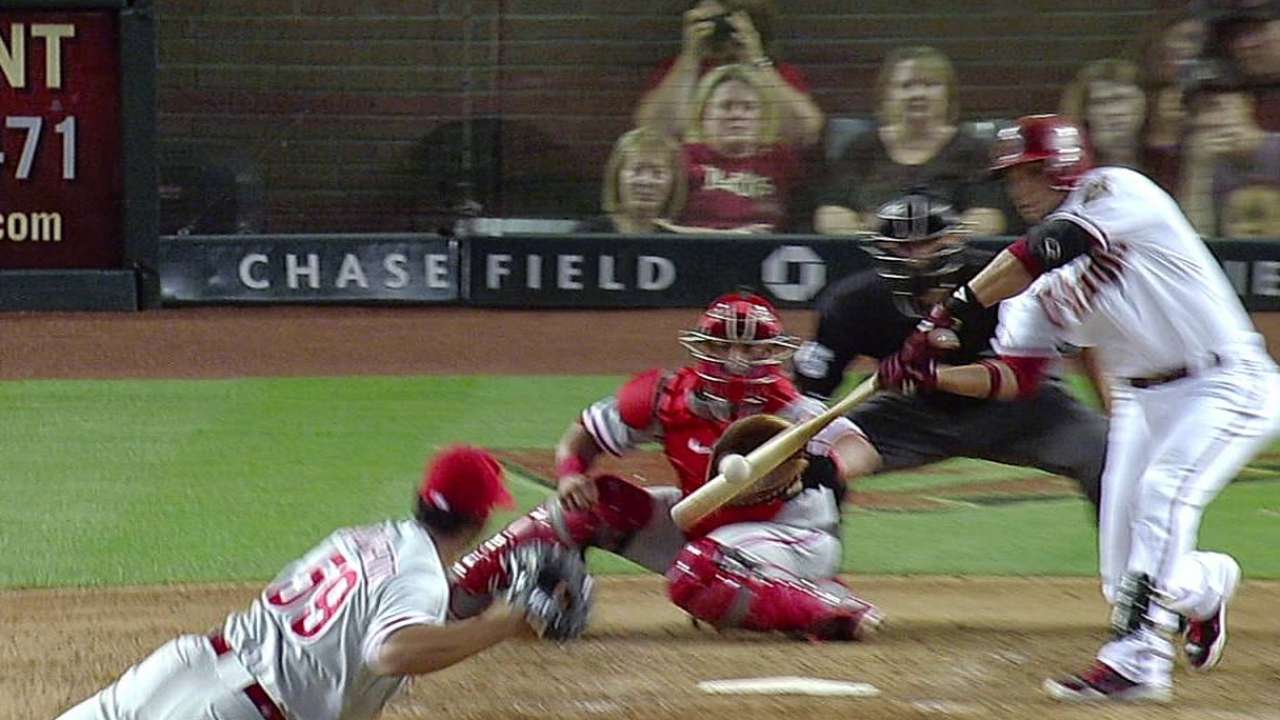 PHOENIX -- Martin Prado was crushed when he learned that he was included in the January trade that sent Justin Upton from Arizona to Atlanta. But his assessment of the trade is filled with the same unselfishness that made him such a beloved figure during his days with the Braves.
"The thing that makes me feel real good is that you know that you got traded and the [Braves] now look better," Prado said. "I'm happy because all of my ex-teammates can see that they gave up something, but actually got a better team. That's what [Braves general manager Frank Wren] was looking for. He made a good move."
As the Braves and D-backs prepared to battle for the first time since the trade on Monday night at Chase Field, it was easy to assess the Braves have thus far gotten the better end of the deal. Upton has compiled a Major League-leading 12 home runs, and Chris Johnson, who was also included in the deal, has proven to be a solid complimentary piece while platooning at third base.
Prado entered Monday hitting .223 with four home runs and a .603 OPS. The former Brave admits he has pressed too hard while attempting to acquaint himself with a new team and live up to the expectations of the four-year, $40 million deal the D-backs provided him a week after the trade.
"Things weren't going the way I wanted," Prado said. "So now, I'm just being myself and being the way I was with the Braves. I'm not changing anything. That's the way I'm going to be from now on."
Prado said it took him more than a month to get over the bewilderment of being traded by the Braves, the organization that signed him to his first professional contract in 2001 and provided him his first seven seasons at the Major League level.
"It took me about a month just to figure out what was going on," Prado said. "I was like, 'Why did all of this happen?' I did all that I could. I was looking forward to playing one more year in Atlanta. I guess they had different plans and different directions. I wasn't part of those plans."
Prado has had the benefit of spending the past few months with Eric Hinske, who signed a contract with the D-backs after spending the past three seasons with the Braves.
"He'd been with Atlanta his whole life," Hinske said. "A guy like me, I've been with a lot of different organizations. So I just go in saying, 'This is me, take me or leave me.' I think he was just uncomfortable around new people. But he did a great job of acting like himself."
Prado spent some time catching up with Brian McCann after the Braves arrived in the Phoenix area Sunday night. He has also remained in close contact with many of his other former Braves teammates, including Eric O'Flaherty, Craig Kimbrel and Jonny Venters.
"The important thing about this is both sides are happy and comfortable with the trade," Prado said. "People here are expecting more from me. But we'll see in the future how it ends up. I don't see this as the beginning of my career. I'm not worried about my numbers. I know there is a lot of baseball left."
Mark Bowman is a reporter for MLB.com. This story was not subject to the approval of Major League Baseball or its clubs.