Simmons credits rainout, talk with J-Up for homers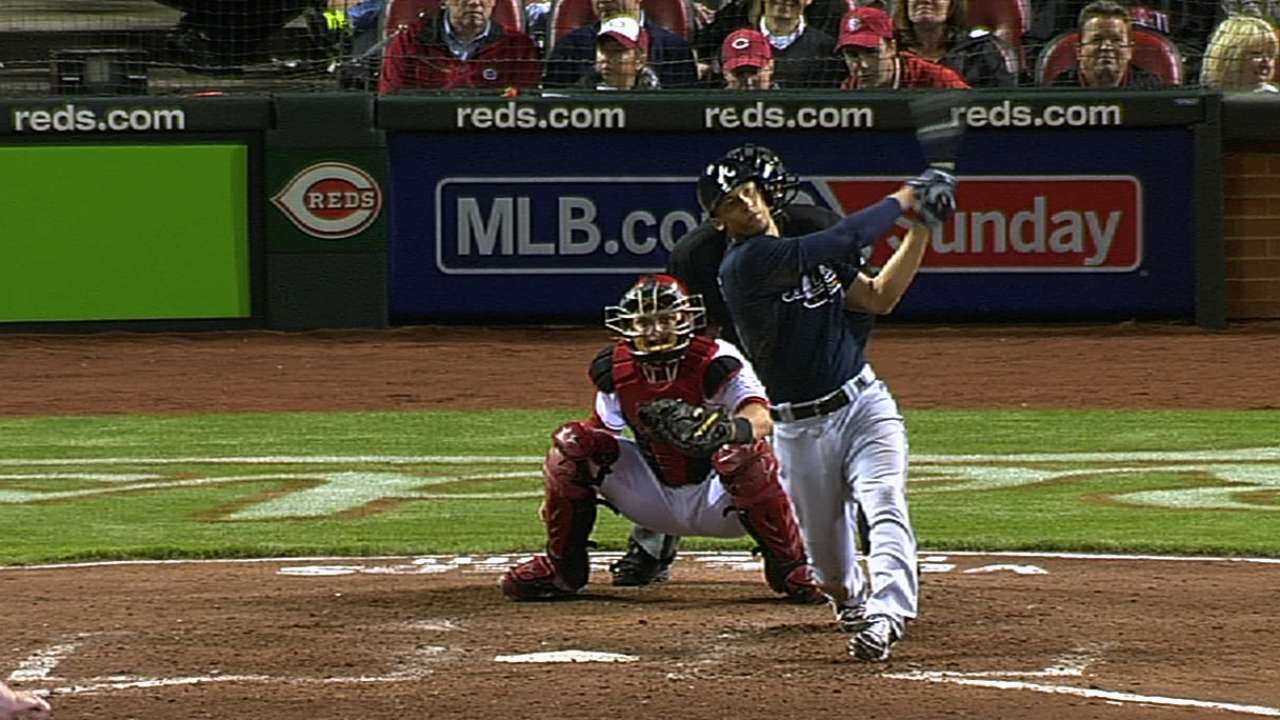 CINCINNATI -- Andrelton Simmons recorded the first multihomer game of his career Monday night, and Saturday's rainout against the Mets may have had something to do with it.
"That rainout really helped," Simmons said. "I spent some time in the cage, talked to the coaches. Justin really helped quite a bit, too."
That Justin, of course, is Justin Upton, who leads the Majors with 12 home runs. Upton told Simmons to stay back in his batting stance as long as possible so he has enough time to react to the ball and attack it.
Simmons listened. He was 5-for-9 in his last two games entering Tuesday, both wins, and went 3-for-4 with two home runs and a career-high four RBIs in Monday's 7-4 victory over the Reds. In two days, his batting average went from .224 to .252.
Simmons hit leadoff against Reds starter Homer Bailey on Tuesday.
"I'm feeling better [and] getting my timing back," Simmons said. "I'm right where I need to be right now."
Simmons also made a highlight-reel play in the field Monday, reaching between his legs to tag out Shin-Soo Choo, who was attempting to steal second base. Simmons said the tag was pure instinct.
"I couldn't see what happened back there," he said. "I just threw my glove back and hoped for the best."
Braves manager Fredi Gonzalez was beyond impressed by the play.
"He's pretty acrobatic, he really is," Gonzalez said. "I remember somebody asked me in Spring Training what is the best defensive play he's made, and I said, 'The next one.' Because it's one after the other with him. So that's good. That's good for us."
Simmons is more than just the highlight reel, though. He has played 29 games this season and started 27 of them. He has yet to commit an error.
"I think when it's all said and done after this year, we're going to be talking about him as one of the top shortstops in baseball," Braves catcher Brian McCann said. "We've had some unbelievable shortstops since I've been here with [Rafael] Furcal, [Edgar] Renteria and Alex Gonzalez -- and he's right there with all of them. His range is unmatched, he makes all the routine plays and he can also swing it. We're lucky to have his talent around here."
Tony Meale is a contributor to MLB.com. This story was not subject to the approval of Major League Baseball or its clubs.