McCann says shoulder feels 'great' after debut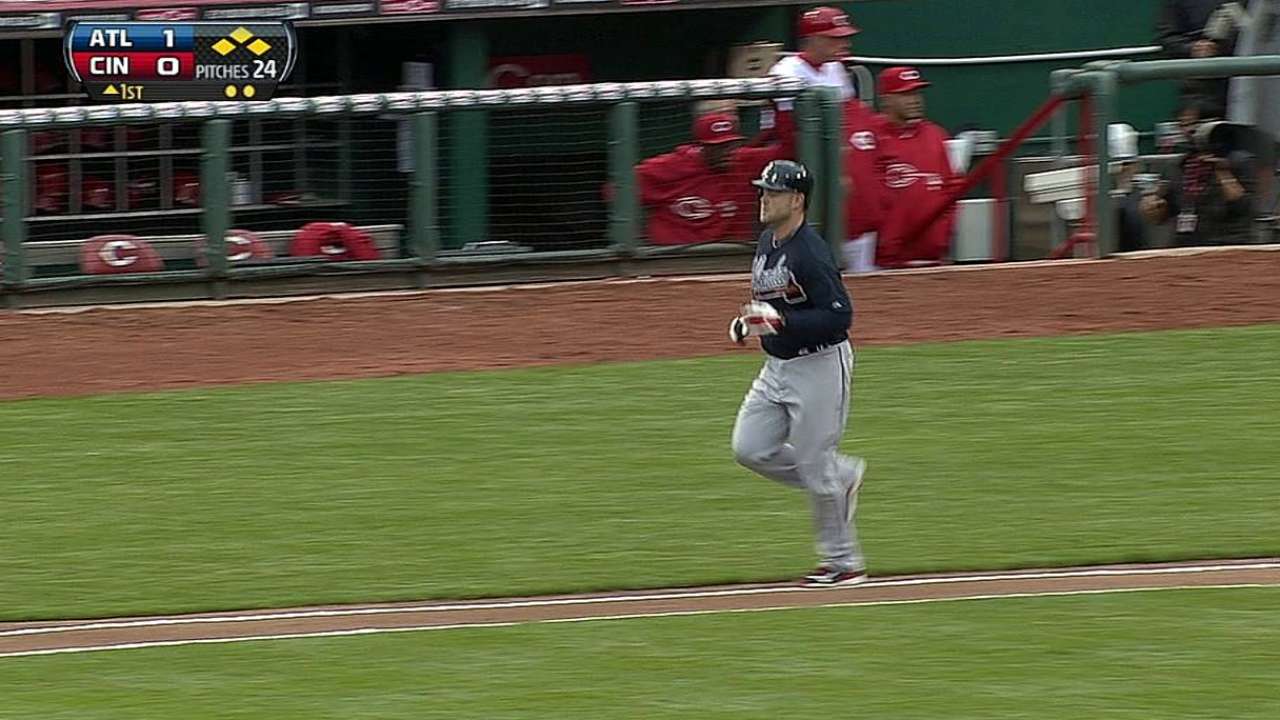 CINCINNATI -- Braves catcher Brian McCann, who was making his season debut after spending five weeks on the disabled list, went 0-for-4 with a walk in Monday's 7-4 win over the Reds.
"My timing was a little off," McCann said. "I actually saw the ball great, but as far as hitting it, I was just a little bit behind or in front. The timing's going to get there. If I'm seeing the baseball like I am right now, I'm in a good place."
McCann, 29, underwent offseason surgery to repair a torn labrum in his right shoulder. He split a seven-game rehab assignment between Class A Rome and Triple-A Gwinnett, during which he went 8-for-23 with four home runs and nine RBIs.
McCann looked fully healed against the Reds, as he fielded multiple bunts and made sharp, accurate throws to first.
"It feels great," McCann said of his shoulder. "I've made all the throws that I needed to make, and I've tested it as much as I could possibly test it and it responds well the next day. Today couldn't have gone any better."
Braves starter Paul Maholm was happy to have McCann back.
"When you add a perennial All-Star and a Silver Slugger, it's always good for the lineup and the clubhouse," Maholm said. "He knows the hitters, he's been around, he understands how you pitch. I've thrown to [Evan] Gattis every time, and we've had success, [but] it's always good to get a guy with eight or nine years of experience."
McCann hit .230 with 20 home runs and 67 RBIs in 121 games last season.
"I think he adds a different dynamic to our lineup," Braves manager Fredi Gonzalez said. "He's obviously a dangerous hitter."
Gonzalez doesn't plan to play McCann at catcher every day and said he will likely give the six-time All-Star an off-day on Wednesday, when the Braves close a three-game series with the Reds at 12:35 p.m. ET.
Gonzalez must now decide what to do with Gattis and Gerald Laird, who hit a combined .287 with six home runs and 21 RBIs while filling in for McCann.
"I think he's been unbelievable," McCann said of Gattis. "I've been impressed with what he's been doing behind the plate with the pitchers. He's been fun to watch. And obviously, what he's done with the bat, he's been nothing short of awesome."
Gattis, batting fifth, played left field on Monday.
Things will only get more complicated for the Braves when Jason Heyward comes off the disabled list. The 23-year-old underwent an emergency appendectomy on April 22.
"It gets a little difficult when Jason comes back to carry three catchers," Gonzalez said, "but I don't even worry about that because something else will happen, so why even worry about it until he comes back?"
As for McCann, he's happy to make his return at hitter-friendly Great American Ball Park, but he's even happier just to be back with his teammates and playing again.
"That's what you miss the most -- the plane flights, the hanging out, the dinners; those are the things that you cherish the most in this game," McCann said. "I feel really good. I've just got to get back in the swing of things. Obviously, the speed of the game is going to be fast, but I'm going to try to slow everything down.
"I want to impact the game. That's what my job is, and that's what I plan on doing."
Tony Meale is a contributor to MLB.com. This story was not subject to the approval of Major League Baseball or its clubs.