McCann set to be activated from DL in Cincy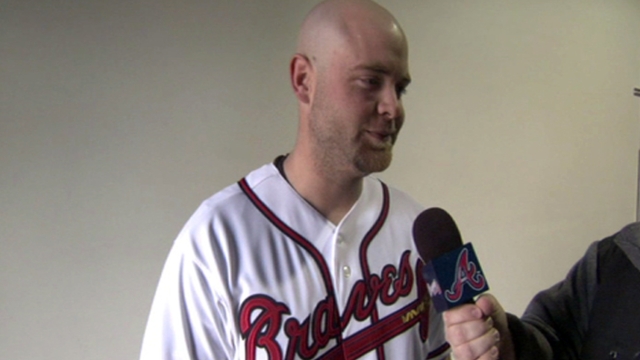 ATLANTA -- The Braves will save a seat on the team charter for All-Star catcher Brian McCann as they leave for Cincinnati following Sunday's series finale with the New York Mets.
"McCann's coming with us and he'll be activated tomorrow. He'll play tomorrow," said Braves manager Fredi Gonzalez following Sunday afternoon's 9-4 win over the Mets. "We're going to send [Tyler] Pastornicky down. It's a long baseball season. We'll see him back. He did a terrific job when he was here."
McCann DHed in his final tuneup game with Triple-A Gwinnett against Scranton/Wilkes Barre at Coolray Field on Sunday and went 0-for-1 with a walk as the designated hitter in Game 1 of a doubleheader.
The six-time All-Star appears ready to go, as he hit .348 (8-for-23) with four home runs, nine RBIs and five runs scored in seven Minor League games between Gwinnett and Class A Rome.
The only concern for McCann was his throwing ability after undergoing offseason surgery to repair a torn labrum in his right shoulder. He didn't get to test it behind the plate on on Sunday, but is comfortable with where he is.
"I passed that test a week or two ago," McCann said. "I feel great. I feel like I did before I had my surgery. The ball is coming out great. I'm ready to go and get the season started."
McCann's success at the plate during his rehab stint will bring consistency to the Braves' lineup, which has been feast or famine this season. The inconsistency in the lineup isn't something that McCann is worried about.
"I'm looking at the record, and we're sitting in first place in a tough division," he said. "It's just the way our team is built. We are going to hit a lot of home runs and we are going to strike out a lot. We are going to win a lot of ballgames, and I'm just excited about getting back."
The Braves are certainly looking forward to McCann's return.
"It's going to be nice to get all the pieces back," said left fielder Justin Upton. "We know we have an All-Star catcher coming back. I used to love to watch him play and swing the bat even when I was playing against him. So it's going to be fun to play beside him."
In McCann's absence, the platoon of Evan Gattis and Gerald Laird have certainly picked up the slack, with Gattis being named the National League Rookie of the Month for April.
"We're very excited [to get McCann back]," said second baseman Dan Uggla. "We've had tremendous efforts out of the guys that have filled in. A lot of guys have stepped up big time, but we're ready for the whole team to be here. Once guys get back, I think we'll really start to come together and figure out how good we actually are."
Jon Cooper and Barrett Sallee are contributors to MLB.com. This story was not subject to the approval of Major League Baseball or its clubs.